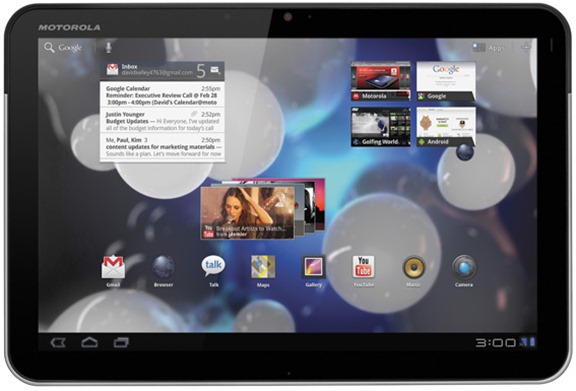 Motorola XOOM WiFi owners, something potentially very interesting is on the horizon. A new "project" is in the works from Moto, and they are asking for participants who have the "Google Experience" version of the WiFi-only model. What exactly does that mean? Since the XOOM was released as the first with stock Honeycomb, as a "developer" device and also as one that receives updates directly from Google, that means it gets to carry the "experience" tag. The good news for "experience" devices, is that they tend to see updates before anyone else in their segment. Just ask the Nexus S.
Now, never in the past have we seen Moto call out for "Google Experience" versions specifically which has made this one in particular grab our attention. Could this be the update to Ice Cream Sandwich? It's possible. The folks at NVIDIA were able to boot up Android 4.0 on their Transformer Prime and it's not even an "experience" device. The move from Honeycomb to ICS should not be that difficult, especially when you are talking about a stock device like the WiFi XOOM. 
Here is the email invite that Motorola is sending out:
Hi,

Thanks for joining the Motorola Feedback Network. We are preparing a project for owners of the "Google Experience Device" version of the WiFi-only Motorola Xoom. (This is the U.S. version only.) If you own this particular model, we would like to invite you to participate.

Click this link to take a short enrollment survey for this project. Please note that you must be a member in good standing of the Motorola Owners' Forums to take part. We have recently moved our forums communities to a new site, and YOU MUST RE-REGISTER to be considered a member. Please visit our new site and complete your registration update if you have not done so already. Be sure to fill out the MFN opt-in information on the new site.

This is a confidential project under the terms of the Motorola Feedback Network. Do not post any details or information about this project on any public sites.

Thanks — please understand that project start times are always fluid. We ask for your patience if you register but don't hear from us right away.

– Matt
Motorola Owners' Forums
Motorola Feedback Network
What are we looking at as far as a time frame goes? It could be a month or 2 still before the public sees anything. These "projects" are for testing purposes for the most part. If there are no issues during testing phases, then the updates are prepared for mass consumption.
Then again, this could just be another bug fixer.
Cheers J and cssc!