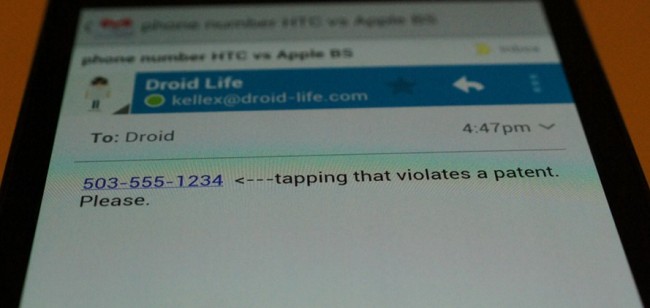 The ITC (International Trade Commission) has ruled today that HTC infringes on one of Apple's patents and will face a ban on their products starting April 2012 here in the U.S. The patent in question has to do with formatted data that can be interacted with, such as a phone number in an email. That's right, if you tap on a phone number through Gmail and it performs an action, you are infringing on an Apple patent.
HTC has already responded to the ruling, claiming that they have a workaround in place. There is no telling exactly what that will be, but today's ruling would seem to put all Android phone manufacturers at risk. This is a native Android feature to my knowledge, so we will likely need Google to come up with a workaround themselves that can be applied to all Android phones.
It's lame, but if Apple was truly the first company on Earth to make formatted info tap-able and has a patent for it, what can you do. We will all want to pay attention to the next couple of months though, as HTC and Google work to come up with some sort of fix. An April deadline has been set.