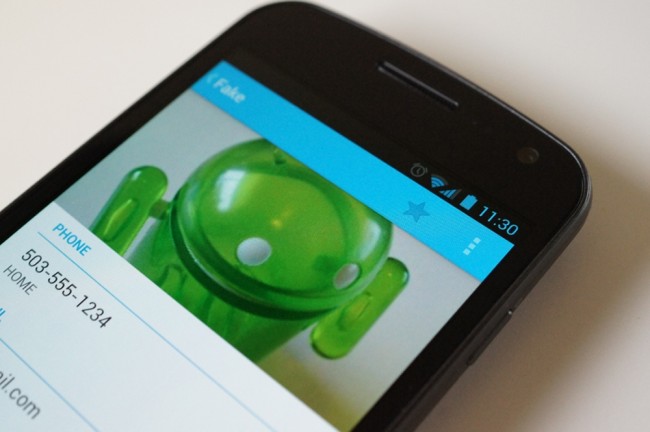 We have received enough emails from readers who are tired of seeing pixelated photos while thumbing through their contact that we stressed our brains to try and find some fixes.  See, we have this theory that Google's servers are to blame since their contact system only holds small photos (possibly 125×125). You may take or attach a high-res photo to a contact, but once it syncs with Google, the size is dropped down, hence the poor photo quality that mysteriously shows up on your phone. As you can see in the picture above, we were all high quality for a minute – trust me when I say that the photo is no longer that sharp now that it has sync'd.
So how do we go about getting nice quality pictures in our contact lists?  Well there are a few options out there to try.  If you are looking to pull high quality images from Facebook into your contacts, you can download Friendcaster which claims to allow for syncing of higher quality photos. It's tough to tell if it actually works well, but if you notice that the pics still look funky, then try turning off your contact syncing with Google so that their servers stop putting the old photos on your device.
And speaking of turning off Google sync, another option is to do just that. Turn off sync and then manually set high-res photos of your friends. Since it can't upload them to Google contacts only to convert them to smaller, lower-res images to be returned to your phone, you should be swimming in quality. This of course defeats the purpose of having everything sync'd at all times with Google's cloud.
The other option, is to tell all of your friends to get on Google+ since it appears to use high-res profile images from it by default.
Update: Here is another great option for everyone. It's called HaxSync and it just hit the Market from an XDA developer specifically for this purpose.  Have at it.
Cheers Eric, Dan, K, Alex, and Thomas!