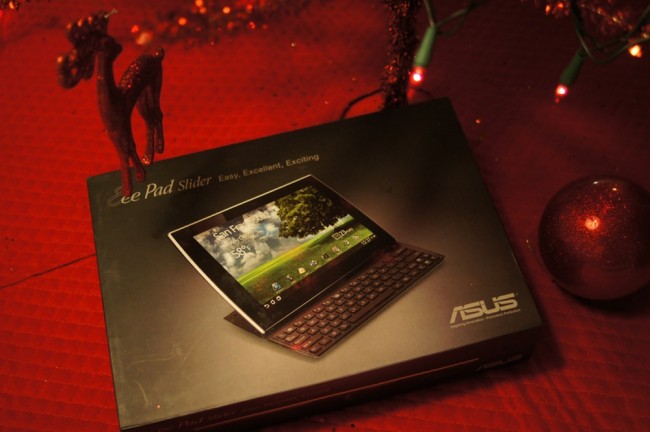 To kick Droid Life and NVIDIA's Two Weeks of Holiday Tegra, we thought we would start with Asus' other Tegra 2 tablet, the Eee Pad Slider. It's all of the goodness you want and expect from the original Transformer, but with a sliding keyboard attached. You will find a dual-core Tegra 2 processor, 1GB of RAM, a beautiful 10.1″ display, dual cameras, and all of the hot ports including HDMI. Yep, it's a winner.  
Update:  A winner has been picked! The Eee Pad Slider goes too…
EC8CH whose favorite holiday tradition is "finding a few moments that make you realize all the stress is worth it."
Congrats Eric! And must I say, "Holy 3,800 entries in about 5 hours time." You guys are the best. Nine more tablets to go!
Prize:
1 (one) Asus Eee Pad Slider tablet.
How to enter:
1.  Follow @droid_life and @NVIDIATegra on Twitter.
2.  Tweet the following message:
Contest:  Ten NVIDIA Tegra 2 tablets up for grabs from @droid_life and @NVIDIATegra – http://goo.gl/JbpIk #android
3.  In the comments, tell us what your favorite holiday tradition is.
4.  U.S. residents only.
Winner:
At 6PM Pacific, we will randomly chose a winner from the comments. This post will be updated, comments closed, and the winner notified. Prizes will be shipped at the end of the week.
Good luck everyone!  And be sure to check back in just over 5 hours for the winner.