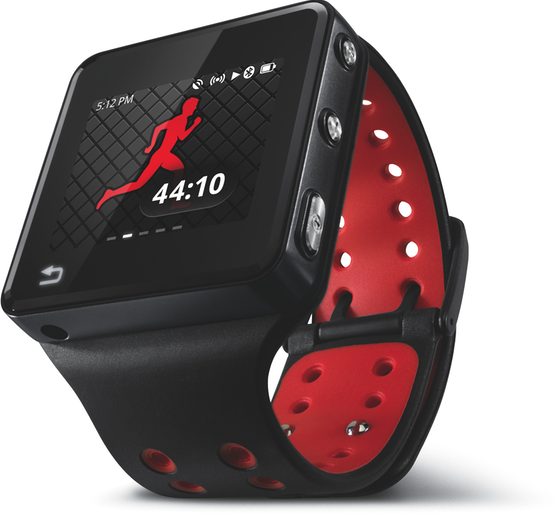 This morning in New York City, Motorola CEO Sanjay Jha took the stage to announce MOTOACTV. The 46mm device is powered by an unspecific version of Android and tracks your fitness regiment – pace, distance, route, and calories burned. The device is waterproof and entirely wireless, including an MP3 player, FM radio, and a heart-rate monitor.
The device sports a 600MHz processor and a 1.6-inch full color touch-screen display. One of the more unique features is the ability to sync with your Android-powered smartphone to receive both incoming text and calls. Unfortunately, Motorola has again overpriced a very appealing device. The MOTOACTV starts at $249 and will be available in both 8GB and 16GB model on November 6. Additionally, Motorola sports headphones that are also sold separately and will be priced at $99 and $149.
A very similar looking top of the line iPod Nano will only run you $149 dollars – has Motorola created a game changer or another overpriced device?  
Motorola Mobility Unveils MOTOACTV™ — The Ultimate Fusion of Music and Fitness

LIBERTYVILLE, Ill. – Oct. 18, 2011 – Scorch more calories, shatter personal records and train even harder with MOTOACTV™, the new fitness device from Motorola Mobility, Inc. (NYSE:MMI). MOTOACTV is a lightweight, wearable fitness performance tracker and smart music player in one. Sync MOTOACTV with your PC, so you can check out the music you perform to best or track your workouts over extended time periods, set goals and even create workout competitions with your friends via the MOTOACTV Web Portal. And MOTOACTV features a touch-screen display so you can instantly launch a new workout or find that one song you've been dying to hear.

"We brought the features you love in your smartphone to the fitness world with a groundbreaking addition, MOTOACTV," said Sanjay Jha, chairman and chief executive officer, Motorola Mobility. "Workout smarter without using multiple devices or even wires, with the first multi-activity music and fitness tracking device with the brains to push you beyond your limits."

Stay on Top of Your Stats
We get it. You're obsessed with your pace, number of calories burned, miles covered, personal records and fitness facts. MOTOACTV uses Motorola AccuSense™ technology and GPS to ensure measurement accuracy of your performance. Your time, distance, speed, heart rate1 and calories burned are all measured, so you can reach your fitness or weight loss goals faster than ever.

Then, upload your workout to MOTOACTV.com to analyze the performance data tracked by the device and review useful, easy-to-understand charts, tools and programs that help you see your strengths and empower you to overcome challenges. You can also get workout tips and training plans from fitness experts at MOTOACTV.com and on your Android™-powered smartphone with our free mobile app available via Android Market™ and pre-installed on DROID RAZR™ by Motorola.

Run. Ride. Jam.
Heart pumping, thighs burning and five laps to go. You need a serious soundtrack to get you through. MOTOACTV can rock up to 4,000 of your favorite songs while tracking your every move, from the Rockies to the gym. Ultra-portable, you choose the way you want to wear MOTOACTV: strap it on your wrist or arm, clip it to your shirt or mount it on your bike during an outdoor ride2.

Your playlist is more than just workout songs: they're songs that push you to perform at your best. The smart music player learns what tracks motivate you most by measuring your performance against your music and then uses those songs to create your personal high-performance playlist.

On those days when your automatically generated high-performance playlist isn't doing the trick, you can switch to FM radio for even more song variety. And if the music is really moving you, go that extra mile – MOTOACTV tracks your outdoor training via GPS.

Keep Connected, Keep Your Pace
Real athletes don't wear earbuds, they rock sports headphones. Introducing innovative sports headphones with built-in heart rate monitors, durable design and crystal-clear audio, the Motorola SF700 wireless and Motorola SF500 wired headphones deliver exceptional sound quality and real-time audible readouts of your heart rate allowing you to track your performance without the uncomfortable squeeze of a chest strap.

MOTOACTV also gives you the option to stay connected to your Android™-powered smartphone, so you can answer calls, receive texts and rock out via your headphones without breaking a stride.

In addition to working with MOTOACTV, the Bluetooth® wireless Motorola SF700 and wired Motorola SF500 sports headphones are compatible with mobile phones, music players and tablets from Motorola and other leading manufacturers.

MOTOACTV will rock your fitness goals with the following features:

Ongoing tracking of fitness performance stats, including pace, distance, calories burned, and map of route covered, with automatic wireless syncing of workout data to MOTOACTV.com
8GB or 16GB of storage for endless playlists
Sports a 1.6" full-color touch-screen display that is sweat-proof, rain-resistant and scratch-resistant Corning® Gorilla® Glass that auto-adjusts for indoor or outdoor lighting
Option to sync with the latest Android-powered smartphone to receive incoming calls and texts
FM radio capabilities for more song variety
Up to five hours of battery life for outdoor workouts, 10 hours indoors, and nearly two weeks on standby
Supports both Bluetooth® 4.0 and ANT+ wireless connectivity for your existing fitness sensors and your future ones
Size: 46mm x 46mm x 9.6 mm
Weight: 35 g

Pricing and Availability
Beginning today, consumers can pre-order MOTOACTV at www.motorola.com, Amazon.com, Bestbuy.com®, REI.com and SportsAuthority.com. Starting on November 6, 2011, MOTOACTV will be available for sale at Best Buy®, Eastern Mountain Sports, REI, The Sports Authority and online at Amazon.com, with other retailers following shortly.

The exclusive launch carrier will be Verizon Wireless with availability in November.

The MSRP for MOTOACTV 8G is $249 and $299 for 16G. Motorola SF700 and Motorola SF500 sports headphones are sold separately and will be $149 and $99 MSRP respectively.

MOTOACTV will also be available in Latin America and Europe starting in Q1 2012. For more information about MOTOACTV, please visit MOTOACTV press kit.

About Motorola Mobility
Motorola Mobility, Inc. (NYSE:MMI) fuses innovative technology with human insights to create experiences that simplify, connect and enrich people's lives. Our portfolio includes converged mobile devices such as smartphones and tablets; wireless accessories; end-to-end video and data delivery; and management solutions, including set-tops and data-access devices. For more information, visit motorola.com/mobility.