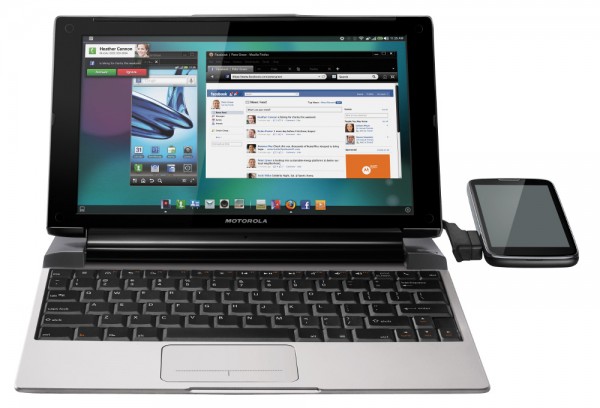 If the original Lapdock that was available for the DROID Bionic wasn't fulfilling your needs, there is a new version on the way that may be worth a look.  The Lapdock 100 was announced today by Motorola, giving them flexibility in the webtop game going forward. Rather than having to build a new piece of hardware for each webtop-enabled phone, the 100 allows them to use a cable to connect phones instead of physically docking them.
The Lapdock 100 will have a slightly smaller 10.1 screen, ergonomically-slanted keyboard, and is incredibly lightweight at just 2.2lbs. Available on AT&T first (likely for the Atrix 2), it will make its way to Verizon later in the 4th quarter. No pricing has been announced.  
New Motorola LAPDOCK™100 Coming Soon to Verizon Wireless, Sprint, and AT&T

Motorola Mobility today introduces the latest smart companion device for its premier line of webtop-enabled smartphones with the arrival of the Motorola LAPDOCK™ 100. Unleashing the full-scale power of select Motorola devices, the new Motorola LAPDOCK 100 gives consumers the ability to reach the ultimate smart mode, play mode, or productivity mode.

Equipped with a bright 10.1 inch high resolution screen, high quality audio, large ergonomically-slanted keyboard with dedicated Android™ keys, touch-pad, multi-tasking capabilities, and desktop-class tabbed web browsing using Wi-Fi or the smartphone's data plan, the innovative companion device is now more affordable, lightweight, and intuitive.

Motorola LAPDOCK 100 supports full multi-tasking – making it easy to respond to an incoming text or take a call while browsing the web, using any one of the thousands of Android™ apps available, viewing pictures, or listening to music.

Owners of supported Motorola webtop-enabled smartphones can view multiple windows simultaneously, watch or share their favorite movie, type long emails or text messages, and even create full documents with a new keyboard and integrated two-finger scroll touch-pad. Motorola LAPDOCK 100 with webtop includes a recently updated full Firefox® browser and Adobe™ FLASH™, delivering broad compatibility across more content and more sites. Work documents can be viewed using the popular PDF format, edited and shared using QuickOffice™ or Google® Docs, or even printed to a long list of supported printers through the integrated MOTOPRINT™ application. Motorola LAPDOCK 100 also includes a PC-like File Manager, making it convenient and intuitive to view, copy, paste, move or delete files on your smartphone or its integrated SD card. And if more space is needed, the device's two USB ports support USB storage, so hard drives or thumb drives can be used to back-up or transfer content such as personal pictures, video, or data to and from your phone.

At a mere 2.2lbs (less than 1Kg), Motorola LAPDOCK 100 is designed to be as mobile as its owners' lives. Compact enough to carry in a back-pack or briefcase, use in the office, in the classroom, at a café or on the couch at home, the device's up to five hour* battery charges the phone so a user never loses their freedom to be mobile.

Motorola LAPDOCK 100 is compatible with multiple Motorola smartphones, including Motorola ATRIX™ 2, PHOTON™ 4G, and DROID BIONIC by Motorola.** It will also be compatible with future Motorola webtop-enabled devices.

The Motorola LAPDOCK 100 will be available online at AT&T on 10/17. It will also be available through Verizon Wireless and Sprint later this quarter.

For more information on Motorola LAPDOCK™ 100, visit www.motorola.com/lapdock100.

*Battery life dependant on adjusted screen brightness, speaker volume and other factors.

**Software update may be required for optimized experience.

Certain features, services and applications are regional and network dependent and may not be available in all areas; additional terms, conditions and /or charges may apply. All features, functionality and other product specifications are subject to change without notice or obligation. Contact your service provider for details.

MOTOROLA and the Stylized M Logo are trademarks or registered trademarks of Motorola Trademark Holdings, LCC. Android and Google are trademarks of Google, Inc. All other product or service names are the property of their respective owners. ©2011 Motorola Mobility, Inc. All rights reserved.