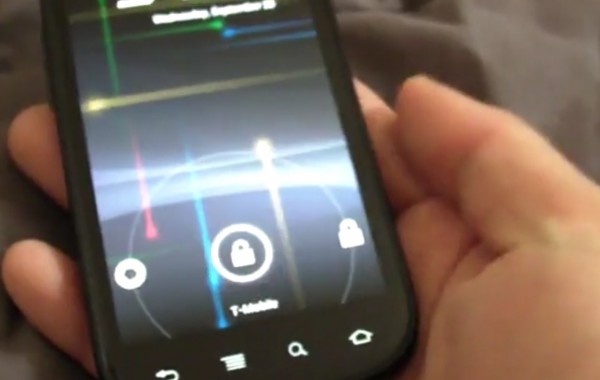 It was only a matter of time before someone jumped on eBay to buy a phone only to find that it came pre-loaded with the latest and for-the-most part unseen version of Android aka Ice Cream Sandwich.  The Nexus S pictured above and on video below was just released over at Engadget, giving us a fabulous look at Android 4.0 and all of its cyan-greenish tints, Honeycomb lock screen, recently used app scroller, and more.  
Some things we noticed right off the bat:
Lock screen lets you jump into the phone or straight to the camera – Apple kang, hah.
What is that Google Apps icon?  A shortcut to all things Google.
Dock has 4 standard apps – will assume they are interchangeable.
Notification bar has a quick settings button – hoping for easy wifi/bluetooth toggles.
App drawer is horizontal just like Honeycomb.
Widget previews in there as well.
Long press on Home gives you recently used app menu from HC. Looks great on a phone.
Settings menu has been broken up into sections.
Pressing Menu at home only had 3 options, one being wallpaper.
Seriously, Cyanogen needs to be paid for this color scheme. 🙂
Via:  Engadget
______________________
Some of our best videos.