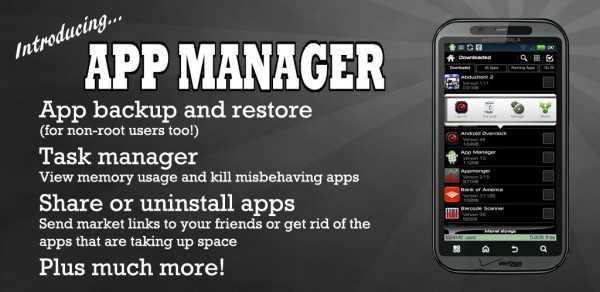 There are quite a few applications on the Market that help users backup/restore apps, manage tasks, and a lot more. One of the more popular being Titanium Backup, which Jrummy16 is looking to compete with. App Manager has a serious list of features that would make any fanatic smile – literally too much to post on one page, so I will limit it to just a few key features. 
Batch backup & restore.
Send backups via gmail/email or dropbox.
Kill misbehaving apps.
Batch uninstaller.
View all apps that can move to the SD card.
Batch move apps to the SD card.
Move *any* user app to the SD card.
Change entire look of the app.
Market Link: Pro Version | Free Verison
There is a Pro verison and a Free version (no Market links and no auto restore), so go ahead and definitely give this one a go. Root is not required, but for much more in-depth control, you should have root access. Let us know what you think down below.