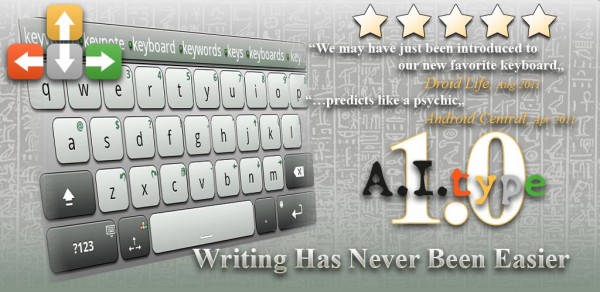 Fans of the A.I.type Beta keyboard can now buy the 'Plus' version from the Android Market. When your competition is Swype, SwiftyKeyX, and FlexT9 you better bring your A-game. A.I.type has some great features which we wish some of the better known keyboards would have, and they only plan on growing the list. 
Suggests your next word.
Completes your current word.
Corrects your spelling as you type.
Auto corrects your typos when you hit the spacebar (context-sensitive)
Automagically learns your common words and style. We call it – MyType (beta)
Supports unique skins (Windows Phone 7 skin, iPhone skin, large buttons skin and more).
Allows skin customization – colors, background images etc.
Includes a layout for undo/redo/copy/paste/navigation and more.
Market Link ($4.82)
Compared to Swiftkey and others, is A.I.type on-par, better or worse?
http://www.youtube.com/watch?v=Ab25nviakcw