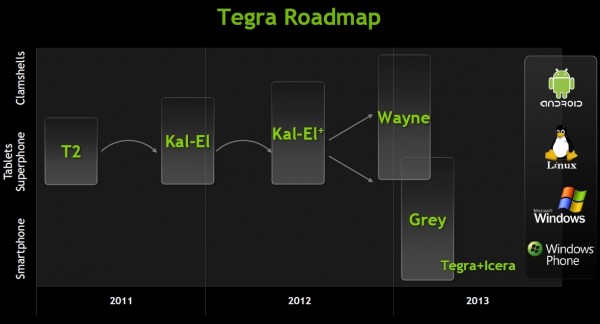 A roadmap of NVIDIA's current mobile processor plans for now through 2013 may have leaked online over the weekend, potentially giving us a look at an already-updated Kal-El (quad-core) chip and their goal of dividing the company into to separate businesses.  We had heard last week from CEO Jen-Hsun Huang that Kal-El processors had been delayed slightly, but would be available in tablets some time this year.  What we had not heard, was that there may be a Kal-El+ processor that will replace it just a few months after those initial device releases.  No details on what the + means in this new quad-core chip were made available in this leak.
The other interesting bit of info we get from this roadmap is the mid-2012 splitting of their mobile processor unit.  There had been talk of NVIDIA entering the non-superphone market to help grow this business and I would say this certainly confirms that.  Project "Wayne" appears to be the superphone and tablet division, while "Grey" could be their "mass consumption" line of processors.  So not only will we see NVIDIA producing a line of game-changing processors that match up with best of them, but we will also see a set of standard processors make their way into the average super phone.
And yes, Windows Phone is listed on there.  Would make sense for NVIDIA to jump into bed with additional operating systems.
Via:  Heisse, Android and Me