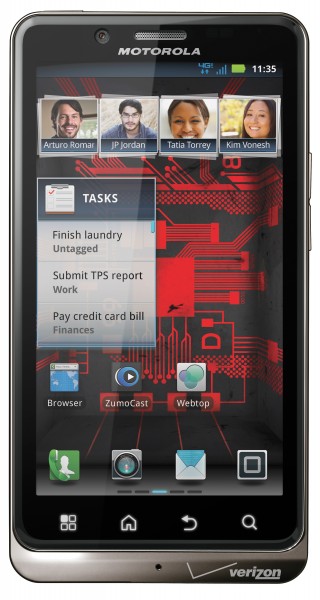 Rather than post these up individually (and stir up the trolls), we thought it was best to just hammer out one big post with all of the DROID Bionic news tips that hit our inbox over the weekend.  Some good stuff going on, including a WiFi Tether hack and a bounty that has been put out for anyone that can unlock the device's bootloader.  We are also wondering if anyone has been struggling with signal and battery issues as much as Tim and I have?  
WiFi Tether Hack
Verizon and Motorola clearly put in some work to block unauthorized tethering on the Bionic, but that hasn't stopped our dev community from making progress.  While the phone can be easily rooted, many of you found out that your favorite tethering app was not able to work properly.  Well, until now that is.  Folks over at XDA figured out a way to edit the settings.db file from inside the device to bypass whatever Moto attempted to block with:
I found way to enable Hotspot without Verizon Provisioning. I used SQLLite Editor to modify settings.db for "Settings Storage" application ( com.motorola.android.providers.settings ). Set entitlement_check to 0 and reboot the phone.
More info at this XDA thread.
Bounty for Unlocked Bootloader
As is customary these days for locked devices just after release, a bounty has been placed on the Bionic's bootloader.  The total purse is up to $370 as of right now, but will surely grow once we get enough people talking about it.  All you have to do is figure out a way to unlock it, prove that you unlocked it, get another forum member to successfully unlock using your method, and the money is yours.
More info at this XDA thread.
Cheap Extended Batteries
We wrote this tip up yesterday, but wanted to point out that it appears to still be available.  If you own a Bionic and are feeling the 4G LTE battery wrath, then you may want to grab the extended battery from Verizon as soon as possible.  They will show up on VZW's accessory page as $49.99, but once you add it to your cart, will see that you can checkout with one for just $24.99.
Signal Issues and Battery Life
Update:  After reading the comments, it's pretty clear that I may be in the minority here.  Most of you are having above average battery life and no signal issues.  Maybe it's time to get a new unit and restart all this testing.
This is more of a subject that I am curious about after having a weekend from hell with my Bionic than anything.  Either I have the ultimate dud device that can't hold a signal for more than 10 minutes at a time or this device is struggling worse than the Thunderbolt ever thought of.  So what I'm wondering, is if anyone else is having signal issues with their Bionic?  I'm in a 4G LTE area, but can essentially watch the device drop and lose connection for good, every couple of minutes unless I toggle Airplane or another network setting to get it to pop back on.  I had heard that there are 4G to 3G hand-off issues and am wondering if that is what I am experiencing.
On a related note, my battery life issues could have to do with the signal issues that did not improve over the weekend.  Hearing reports of anywhere from 8-12 hours of life from some of you which is solid – I'm just having no such luck.  Anyone else having battery issues?
Cheers Lawrence and Jarrod!