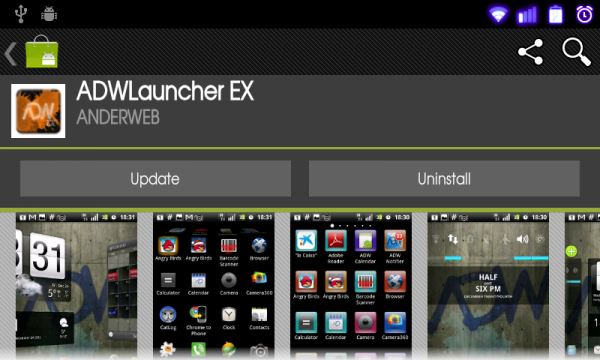 Mr. AnderWebs has released an update to his extremely popular ADW EX home replacement app today, and the crowds of fans are happy. The changelog is somewhat minor, but it still leaves other home replacements in the dust as they play catch up. If you have been using ADW on your Honeycomb tablet, then this update is definitely right up your alley. 
What's New:

Fix incompatibility with Android 3.2
In Android 3.x, the top Actionbar displays a customizable shirtcut to the left.
New dockbar design thanks to @josuas79
The dockbar can now be set as "primary"
Both docks are now always horizontally placed at the bottom on big screen devices (10″ tablets)
Drag and drop items inside dockbar folders.
New "Quick Folder Popup" implementation for user folders and groups launcher actions.
A bunch of other small tweaks and fixes.
Note: Anders has just tweeted that the "Hide Labels" feature has been broken with this update though, and he will issue a fix tomorrow.
Everyone still using either ADW EX, or LauncherPro? We have definitely seen a huge increase of people using GO Launcher as well these past couple of months. Let's all be grateful that we have the option to choose.
Cheers Dave Kover!