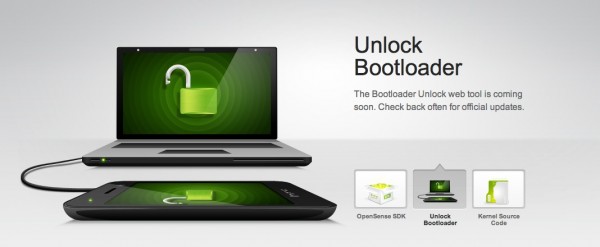 Looks like HTC has become everyone's favorite manufacturer starting today. They have begun the unlocking process for their devices, beginning with the European Sensation. Looking at their site, it looks as though we can maybe expect the HTC Evo 3D on Sprint next, followed by the Sensation 4G for T-Mobile? No Verizon love yet? Guess we will have to show a bit more patience. 
HTC is being extremely clear in their disclaimers about warranty issues, and they want you to be safe:
You are about to start the process of unlocking your device. Unlocking your device allows you to install custom Operating Systems ("OS") onto your device. Custom OS's are not tested as thoroughly as your original OS, and unlocking your device may void all or parts of your warranty. HTC disclaims any and all liability for proper functioning of your device after the bootloader has been unlocked and for data lost in the unlocking process. To prevent unauthorized access to your data, unlocking the bootloader will delete all personal data from your device including applications, text messages and personalized settings.
This is the type of disclaimer that everyone who ever rooted their phone is aware of. No surprises here right? We are still on the lookout if unlocking your bootloader will put you on a list of "non-fixable" devices that Verizon might have. Hopefully, we are all just a wee bit paranoid and HTC is not ratting us out to Big Red. Why would they do that?
Once you agree to these warnings and continue on, you must then check two boxes.
I acknowledge that use of the unlock bootloader may void all or parts of my warranty device and my device may not function as intended by HTC.

I acknowledge that, if my device requires repairs, HTC may charge for additional costs due to the unlocked bootloader.
If you are okay with all this, then you simply just follow some instructions given, and you are all done. Good to go. Once the unlocking tool is available for Big Red devices, who is going to be first to use the procedure? I see Kellex raising his hand.
Via: HTCDEV
Cheers Mike!