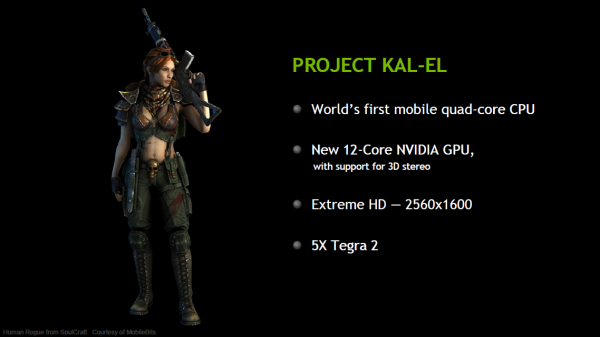 There has been much anticipation around the Kal-El quad-core line of processors by NVIDIA, originally appearing to be ready for release on Android tablets in August, and later on this year for mobile phones. The world's first quad-core mobile processor, 5x faster than NVIDIA's Tegra 2, would deliver the power/power management to take mobile tech into the future. Well today, there has been a bit of sad news coming from the NVIDIA camp. Our buddies over at Android and Me got the official word from NVIDIA, that release of Kal-El devices wouldn't be happening for at least a couple more months. Bummer.  
Project Kal-El-powered tablets are coming this Fall, and phones around the CES 2012 timeframe.
"Coming this Fall". It could always be worse. Looks like we will have to add NVIDIA to our list of booths to stop by during next year's CES. Project Kal-El is definitely expected to be worth the wait, and we're hoping the delay just means a better product at time of release. Is anyone shocked by the announcement of the delay of release?
Via: Android and Me, Fudzilla