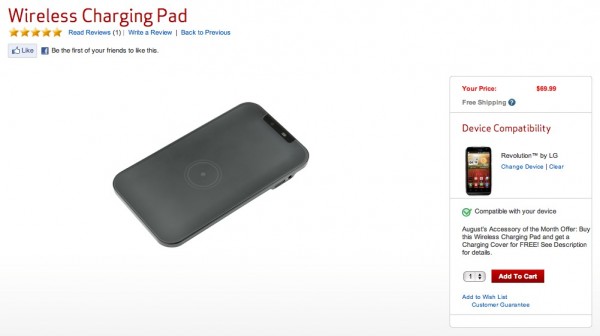 Either Verizon hasn't sold many of these inductive (wireless) battery charging pads and covers or they are finally ready to force you into learning about this new technology.  Through August's "Accessory of the Month" deal, you can buy the wireless charging pad ($69.99) that they have on hand and receive the wireless battery cover for a select few devices for free – all normally priced from $29.99 – $39.99.
What is wireless charging?  Well, if you have a pad and battery cover, you can easily charge your device without having to actually plug in your device.  Sure, the charging pad will always have to be plugged into a wall, but I'll even admit that it is pretty handy to come home and simply set my Thunderbolt down on my desk to get it to charge rather than fuss with a microUSB cable.
So if you have a DROID3, HTC Thunderbolt, LG Revolution, DROID Charge, or Incredible 2, you may want to look into the future of charging and grab one of these pads along with a matching inductive battery cover.    
Buy.
Cheers nick!