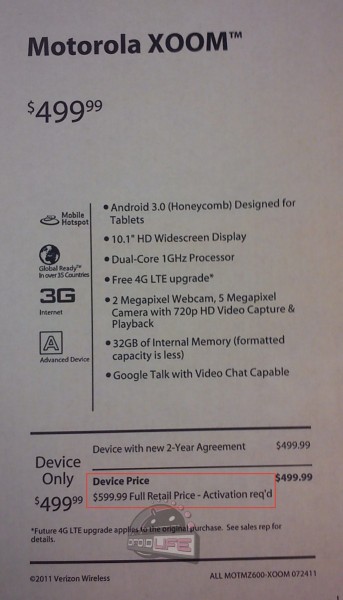 We reported earlier today that the Verizon version of the Motorola XOOM had dropped to $499 on 2-year contract, but from the shot of a store's pricing slip, we can see that the deal may be even sweeter.  The full retail price (in stores at least, online is still $799) has dropped to just $599 as of today.  Yep, that makes the 3G version of the XOOM that is upgradeable to 4G LTE, the same price as its WiFi-only counterpart (well, when it originally launched).
In recent weeks, we had been telling most of you in the tablet-buying market to either consider the new Galaxy Tab 10.1 or Asus Transformer.  But to have a Honeycomb tablet that will at some point in the next month be upgraded to 4G and that also receives updates quicker than anyone, we'd be lying if we didn't tell you that we think this deal is ridiculously good.  Clearly there are cheaper options even with the XOOM 3G/4G at $599, but none of them will have the ability to lock onto Verizon's network either.
Anyone ready to head into a Big Red store today?
Cheers ___!