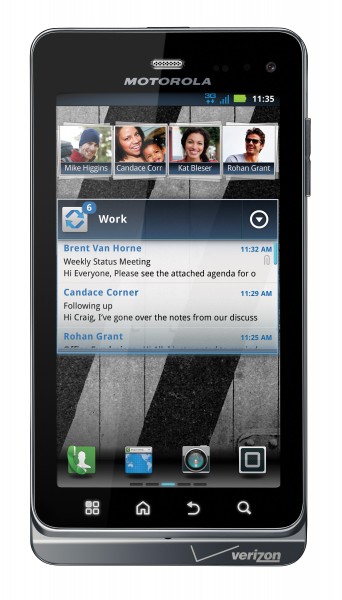 The DROID3 went on-sale last night online and through Verizon's telesales, but we can finally call it official now.  The next beast in the DROID series has been announced by VZW and is as expected, $199 on 2-year contract and $459 at full retail.  It's sporting a dual-core processor (more than likely an OMAP4), 4″ qHD screen, 5-row keyboard, front and rear cameras, HDMI mirroring, 1080p video recording, and Android 2.3.  It's not 4G LTE, but it should is packing some nice specs and should definitely be considered.
Still no word on the bootloader situation – we'll likely know in the next day or so.
Buy.  
Verizon Wireless Introduces The Next Generation DROID Delivering Power And Performance: The DROID 3 By Motorola

Full Keyboard, No Compromises; DROID 3 by Motorola Available Online Today

BASKING RIDGE, NJ, and LIBERTYVILLE, IL — Verizon Wireless and Motorola Mobility, Inc. (NYSE: MMI), today announced the new Android™-powered DROID 3 by Motorola, a global smartphone that delivers power for work and play without making compromises.

DROID 3 by Motorola is the world's thinnest full QWERTY smartphone, and still delivers the power of a dual-core 1 GHz processor for fast multi-tasking. Customers can take stunning photos with the 8-megapixel camera or capture the moment in 1080p HD video. Equipped with Android 2.3, the DROID 3 by Motorola features a brilliant 4-inch qHD display, a roomy 5-row QWERTY keyboard and 3G Mobile Hotspot capabilities, with the ability to connect up to five Wi-Fi-enabled devices. DROID 3 by Motorola delivers the power needed to conquer the day whether customers are at home, work or somewhere in between.

Additional features:

Powered by Android™ 2.3 Gingerbread
Mirror mode allows you to view and share photos, videos and movies on a larger TV via HDMI output (requires HDMI cable)
Global ready, allowing customers to enjoy wireless voice and data service in more than 200 countries, including more than 125 with 3G speeds
Enterprise ready with advanced security policies, device and SD card encryption, complex password support, remote data wipe of device and SD card; document and presentation viewing and editing with Quickoffice®
Citrix® GoToMeeting® for Android, gives users the ability to attend online meetings while on-the-go, and Citrix Receiver® for Android, a universal software client that allows companies to deliver corporate apps, desktops and data to any corporate- or employee-owned device
ESP smart dock technology for a tailored experience based on whether DROID 3 is docked in home, office or car settings
Adobe® Flash® Player 10
Front-facing camera for still shots and video chat
Video playback in 1080p HD in mirror mode

Pricing and availability:

DROID 3 by Motorola is now available online atwww.verizonwireless.com, and will be available in Verizon Wireless Communication Stores by July 14 for $199.99 with a new two-year customer agreement.
Customers that purchase a DROID 3 will need to subscribe to a Verizon Wireless Nationwide Talk plan and a smartphone data package. New Verizon Wireless customers will have the option of smartphone plans starting at $30 for 2GB of data. Current Verizon Wireless smartphone customers who are upgrading their smartphone can keep their current data plan.

For more information on Verizon Wireless products and services, visit a Verizon Wireless Communications Store, call 1-800-2 JOIN IN or go to www.verizonwireless.com.

About Verizon Wireless
Verizon Wireless operates the nation's fastest, most advanced 4G network and largest, most reliable 3G network. The company serves 104 million total wireless connections, including more than 88 million retail customers. Headquartered in Basking Ridge, N.J., with 85,000 employees nationwide, Verizon Wireless is a joint venture of Verizon Communications (NYSE, NASDAQ: VZ) and Vodafone (LSE, NASDAQ: VOD). For more information, visitwww.verizonwireless.com. To preview and request broadcast-quality video footage and high-resolution stills of Verizon Wireless operations, log on to the Verizon Wireless Multimedia Library atwww.verizonwireless.com/multimedia.

About Motorola Mobility
Motorola Mobility, Inc. (NYSE:MMI) fuses innovative technology with human insights to create experiences that simplify, connect and enrich people's lives. Our portfolio includes converged mobile devices such as smartphones and tablets; wireless accessories; end-to-end video and data delivery; and management solutions, including set-tops and data-access devices. For more information, visitmotorola.com/mobility.

MOTOROLA and the Stylized M Logo are registered trademarks of Motorola Trademark Holdings, LLC. Facebook is a trademark of Facebook, Inc. Adobe and Adobe Flash are trademarks of Adobe Systems Incorporated in the United States and other countries. Android is a trademark of Google, Inc. All other trademarks are the property of their respective owners. © 2011 Motorola Mobility, Inc. All rights reserved.