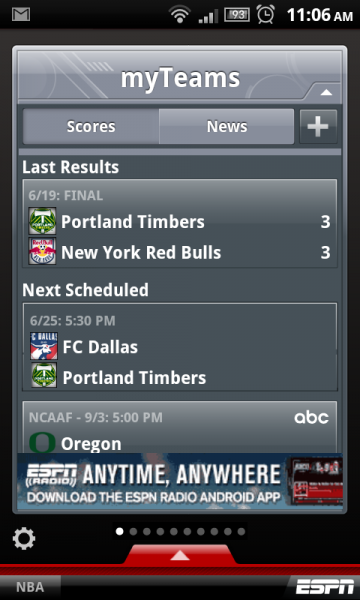 The original release of ESPN's Scorecenter on Android was pretty weak – there is no denying that.  As of today though, the app stands up to the best of them with its new panel swiping abilities, drop down menus for additional coverage of your favorite sports, video feed and performance tweaks.  Using this app used to be extremely frustrating, but after having the latest update for just a few minutes, I'm starting to find a new attraction.  Now, if only we could get a tablet version?    
Here is the full changelog:
Smooth card swiping to easily slide from screen to screen to view new leagues
News and standings for dozens of leagues, conferences, divisions, and tours + aggregated local news coverage for your favorite teams
New video coverage of the biggest breaking stories in the sports world including a ScoreCenter video widget for one-touch, on-demand access to exclusive ESPN video!
Massive performance updates to improve speed and reliability of the application
______________________
Some of our best videos.