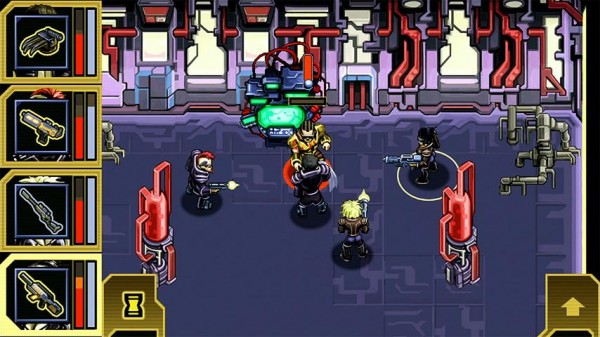 Today we take a look at Cyberlords-Arcology. Cyberlords is an RPG style action game that is based in the year 2173. In a society void of citizen political input, we have Jesse Lord with his kick butt and chew bubble gum attitude. I'm pretty sure you guys can see where this is headed. I'll admit that the dialogue is kind of cheesy but it delivers the plot and back story with little confusion. Where the game lacks in dialogue, it more than makes up in gameplay, graphics and fun factor. The controls are really accurate and quick to learn. Simple touch and do commands make this a "focused on the action" style game. The developer scored top marks in my book for his delivery of the game. In the Android Market, the full, all inclusive game is free with ads. You get near HD graphics, a good length story, and overall fun game for free without any in game add on purchases. The developer also offers a paid version that removes the ads, which I always recommend if you like the app, as a way to support. I also want to mention that the developer states he has optimized this game to run on the Xperia Play. If you have an Xperia Play, let us know how this looks on it.  
From the developers listing:
It's the year 2173. The power of government is in decline and the world is controlled by gigantic megacorporations. People may have no political power, but they still have control over their own bodies. Powerful NanoGear implants grant superhuman abilities and transform bodies into deadly weapons. Lead your four-man team of augmented cyber-warriors on dangerous infiltration missions. Hack into camera systems and computer terminals, take over security robots and lure enemies into ambushes with mines and sentry guns. Stealth, clever tactics or brute force – the choice is yours, and remember: the future lies in your hands!
Features:
– Science fiction RPG
– Real-time combat with 4 team members
– Tactics mode: pause the action at any time
– 4 levels of difficulty
– Improve your skills with biomechanical augmentations
– Over 20 different weapons including blades, guns, grenades and mines
– Specialise your team members in stealth, combat or hacking skills
– Many achievements to hunt
– Simulated persistent world
*The Amazon Free app of the day is Random Mahjong Pro.
If you have a suggestion for a future App of the Day, send it on over.
Cheers Jonathan!