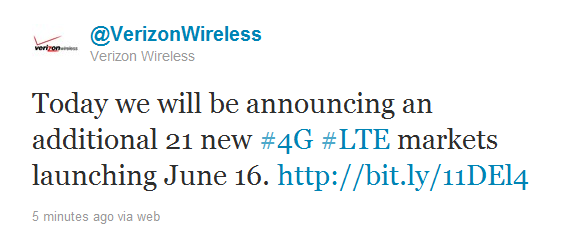 Verizon just got done announcing 9 new LTE cities last Thursday, but that was nothing compared to what we should see come June 16.  21 new markets will go live and so far appear to include:
Ann Arbor, MI
Flint, MI
Grand Rapids, MI
Lansing, MI
Indianapolis, IN
Fort Wayne, IN
State College, PA
Erie, PA
Harrisburg, PA
Dayton, OH
Springfield, OH
Greenville-Spartanburg, SC
Hartford, CT
Madison, WI
Milwaukee, WI
Racine, WI
Kenosha, WI
Wisconsin Dells, WI
Sioux Falls, SD
As we see more throughout the day, we'll do our best to update this post.
Via:  Twitter
Cheers Mark!