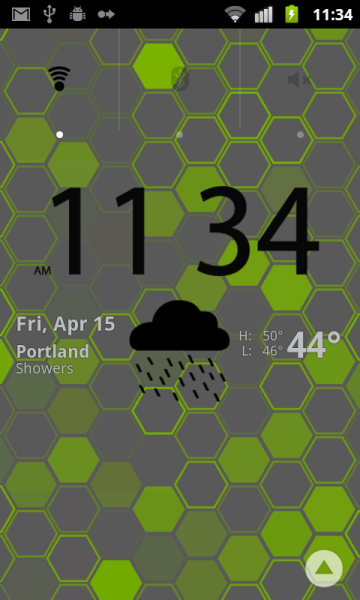 Our boy Fede released a new skinning engine for LauncherPro today that will allow some of our favorite themers to attack widgets and make them beautiful without requiring you to install a whole new version of the app.  The hope is to launch the full version in the market Monday (or so), but themers can get to work now so that we can enjoy some fabulous skins ahead of time.
I should also point out that this will allow you to set different skins for each of your LP widgets, so you are not just stuck with one particular theme.  Nice, right? +1 Fede.
Download:  LauncherPro_WidgetSkinningBeta.apk
Here are the dirty details of this new engine:
(Almost) All of the graphics you see on the widgets will be skinnable. That includes header background, the shadow below the header, the widget body background, the footer background, refresh icon, buttons (for example, the Timeline/Mentions/DM buttons on the Twitter widget), etc.
Most backgrounds should be 9-patch images
Most clickable images, like buttons and the footer (refresh bar) should have two states; normal and pressed. When the user presses the button/image, it will change to the pressed graphic.
You'll be able to change the color of any text elements on the widgets.
Changing text sizes might not make it into the first SDK, but will definitely come in future updates.
More fine-tuning options like changing element positions and dimensions will also come in future updates. This first release should provide enough customization to create some cool skins.
All of the instructions for skinning can be found at this thread.
And here is a sample skin that someone already created.
Cheers everyone!