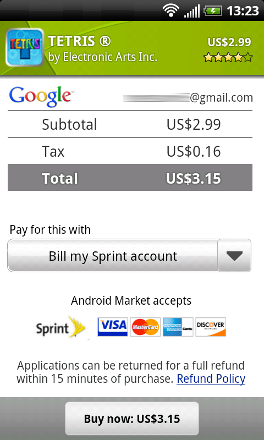 Sprint jumped on-board with direct carrier billing all of 10 minutes ago, joining the likes of AT&T and T-Mobile, leaving Big Red as the only major U.S. carrier to not offer the feature.  If you are not familiar with the concept, just know that direct carrier billing allows you to slap app purchases onto your monthly bill that can be paid at the end of each month rather than to your credit card.  It's got win written all over it.
Update:  I reached out to Verizon and received this in response to the idea of direct carrier billing happening in the near future:
Verizon Wireless has always offered customers the option of charging apps to their Verizon Wireless bill when the apps are selected from the Verizon Channel in Google Market or from the V CAST Apps store. We don't currently have plans to allow customers to charge any app in the Marketplace to their Verizon Wireless bill.
There you have it.  Although, my phones definitely don't let me charge anything to my bill even from the Verizon tab in the market, so I'm as confused as you are.  The point is, that they don't have any plans at this time.