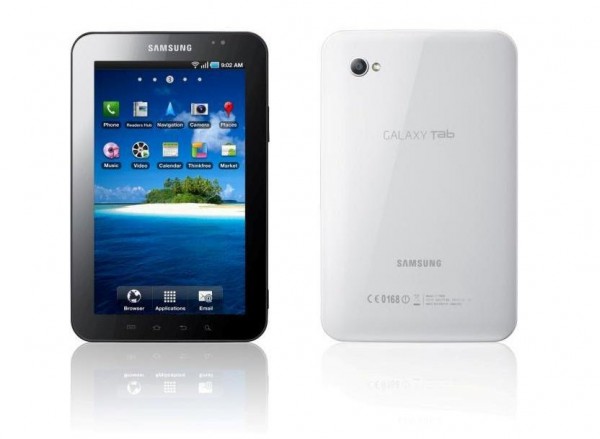 A couple of weeks ago we were tipped to the WiFi-only Samsung Galaxy Tab possibly launching on April 4, but it looks like the device was pushed to April 10 instead and even dropped to a price of $349.  You can all pick up this 7″ Android 2.2 tablet from a variety of online and local retailers, but just know that we have no idea if it will ever see Honeycomb.  The price is very nice and the specs haven't changed on this edition (our review), so if the idea of possibly never having an update is OK with you, then by all means run out and grab one.
Update:  Samsung realized it made a boo-boo and made sure we knew that this version still only has 16GB of internal storage.  The press release has been corrected.   
Samsung Galaxy Tab™ Available for Purchase at Multiple Retail Stores and Online Outlets

Consumers receive chance to purchase WiFi-only version of Samsung's award-winning Android™ platform mobile tablet

DALLAS, April 6, 2011—Samsung Telecommunications America (Samsung Mobile), the No. 1 mobile phone provider in the U.S.1, announced today that several retail stores and Web sites will carry the WiFi-only Samsung Galaxy Tab™ by April 10, offering customers the opportunity to buy this powerful and compact mobile tablet for $349.99. Consumers can visit http://www.samsung.com/us/mobile/galaxy-tab for a complete list of retail outlets selling the WiFi Galaxy Tab.

The Galaxy Tab is powered by the Android™ 2.2 platform and has a 7-inch TFT display with a 1024 x 600 resolution. The super-light and sleek device weighs just 13 ounces, is 12 millimeters thin and easily fits in a pocket or purse. The Galaxy Tab includes 16 GB [corrected] of internal storage and offers microSD expansion to allow for up to 32 GB of additional storage.

"We are excited to have the WiFi version of the Galaxy Tab join our growing portfolio of Galaxy-branded devices," said Dale Sohn, President of Samsung Mobile. "The 7-inch Galaxy Tab is the first truly mobile tablet on the market, allowing users to comfortably hold the device in one hand while typing or navigating the Web with the other."

Outstanding Entertainment Options

The Galaxy Tab supports Adobe® Flash® Player 10.1 to deliver an enhanced content experience and allow users to engage with thousands of sites with rich Adobe Flash Player compatible applications and content including games, animations, rich Internet applications (RIAs), data presentations and visualizations, ecommerce, video, music and more. Plus, the device is designed with a rear-facing 3 megapixel camera for taking pictures on-the-go, and a front-facing 1.3 megapixel camera and camcorder for video chat.

In addition, the Galaxy Tab includes access to Media Hub, Samsung's own content service, offering a vast lineup of critically acclaimed films and TV programs for rent or purchase. The biggest and best names in entertainment, including CBS, MTV Networks, NBC Universal, Paramount and Warner Bros. provide new release movies, next day TV episodes and full TV show seasons to the robust Media Hub library. Media Hub also promotes content sharing, including the ability to send purchased films and TV programming to as many as five devices that carry the Media Hub application.

Google Services & Social Hub

Services like Google Maps™ Navigation and Google Goggles are available on Google's Android platform. With useful location-based services like Google Maps™, consumers can search in Standard English instead of entering an exact address. A search-by-voice function is just as intuitive, meaning searches can also be completed easily on the go. Google Goggles™ is a powerful, visual search tool that uses the Samsung GALAXY Tab's camera to uncover information – an image of a landmark or artwork is automatically used to perform a search, delivering relevant content like a description or history. In addition, with a camera, users can enjoy various augmented reality services which are downloadable in the application market. Plus, Galaxy Tab users have full access to more than 150,000 applications available for download from the Android Market™.

The Galaxy Tab keep users organized and connected with Samsung's Social Hub application. Social Hub works with the user's Messaging and Contacts to initiate the sending and receiving of information, whether it is e-mail, instant messaging, social network updates or SMS messages. Additionally, calendar information from portal calendars, such as Google Calendar, and social networking services are displayed together in one calendar with two-way synchronization.

Samsung Galaxy Product Portfolio

The WiFi Galaxy Tab joins other popular products under the premium Samsung Galaxy brand, including the upcoming Galaxy Tab 10.1, Galaxy 8.9, Galaxy Player 5.0 and Galaxy Player 4.0 and the portfolio of Galaxy S smartphones.

About Samsung Telecommunications America

Samsung Telecommunications America, LLC, a Dallas-based subsidiary of Samsung Electronics Co., Ltd., researches, develops and markets wireless handsets and telecommunications products throughout North America. For more information, please visit www.samsungwireless.com.

About Samsung Electronics Co., Ltd.

Samsung Electronics Co., Ltd. is a global leader in semiconductor, telecommunication, digital media and digital convergence technologies with 2009 consolidated sales of US$116.8 billion. Employing approximately 174,000 people in 193 offices across 66 countries, the company consists of eight independently operated business units: Visual Display, Mobile Communications, Telecommunication Systems, Digital Appliances, IT Solutions, Digital Imaging, Semiconductor and LCD. Recognized as one of the fastest growing global brands, Samsung Electronics is a leading producer of digital TVs, memory chips, mobile phones and TFT-LCDs. For more information, please visit www.samsung.com.

Android is a trademark of Google, Inc.

1 Number one mobile phone provider in the U.S claim for Samsung Mobile based upon reported shipment data, according to Strategy Analytics, Q4 2010 U.S. Market Share Handset Shipments Reports.