We were hoping that a press release with an official announcement for the HTC Thunderbolt would be smiling at us from within our inbox this morning, but Verizon appears to have forgotten to click "send."  So without that, everything should still be taken as rumor including the tips that we received over and over again this weekend.  What were they?
Best Buy is calling and emailing pre-order customers like crazy.  We received at least a dozen reader confirmations that Best Buy had called them with an expected date of March 17th.  The funny thing here is, that they said they would call back later in the week to set up an appointment, meaning they still aren't sure if it'll happen this Thursday or not.  It amazes me that they would be calling customers after the month and a half of messes they've already been through.
The second note from the weekend is actually a little more legit though.  VZW distribution centers have now changed there ADR6400LVW (Thunderbolt) status from "quantity on order" to "quantity in stock."  No date has been attached, but this is another of those launch date checklist items that can be crossed off.
And hot off the Twitter wire, an account claiming to be a local Verizon agent seems ready to spread word that the 17th is indeed the day.  Take this one as lightly as you possibly can.  Seriously, you probably shouldn't even read the tweet below…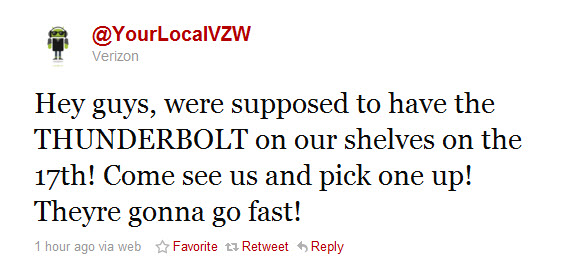 Cheers Anki, Carlos and everyone else!