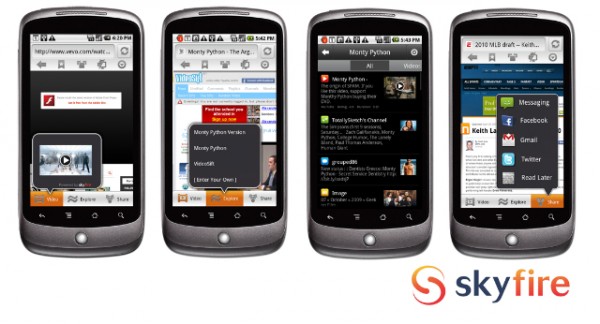 Skyfire version 4.0 which the company is calling their "Pro Edition" should be out in the coming weeks and is expected to be as good as ever.  With over 2.5 million downloads of their browser, it looks like the company has decided that it's time to monetize it with some sort of a pricing model.  There will also be a new look and a bunch of "killer" features, that we have not yet been informed of.  This is an odd press release, I'm not going to lie.  I guess this would fall under the "teaser" category?
Anyone a big Skyfire user?  
Skyfire Preparing Major Update for Their Popular Android Browser with New Features and Pricing Model

Skyfire focused on bringing greater personalization and customization to the Android browsing experience.

MOUNTAIN VIEW, Calif. (March 10th, 2011) – Skyfire, the company that brought you the most innovative smartphone application of 2010, is at it again in 2011. The red-hot Skyfire mobile browser on Android is about to get a whole new look, pricing model and killer features.

Skyfire for Android is one of the most popular applications in the Android Marketplace and has seen over 2.5 million downloads since launching in April 2010. The mobile browser was upgraded to critical acclaim in November 2010 with integrated social media and Facebook capabilities. This latest update will continue to build on Skyfire's strong track record of innovation.

The company is expecting to announce Skyfire for Android version 4.0 in the coming weeks. All existing features will remain free to the 2.5 million beta testers across the globe and these users will continue to receive Skyfire's innovative updates moving forward in gratitude for their help and support in the launch of the product.

Download Skyfire 3.0 for Android today:
About Skyfire:

Skyfire is dedicated to using cloud computing to improve multimedia experiences on mobile phones, and has created the first "Compression as a Service" (CAAS) offering for wireless carriers and device makers. Skyfire's technology has been visible to consumers through the Skyfire browser app, which has enabled Skyfire to refine its technology with millions of users.

The app was named the #2 App of All-Time for Android by TechCrunch, and was the top pick in a PC World September 2010 comparison of all Android browsers. Skyfire won the Best Mobile Application-People's Voice at the 2009 Webby Awards and was named a Top App of 2009 by the New York Times' Gadgetwise. Skyfire's iPhone browser, launched in November 2010, quickly reached the top selling app rank on the Apple App StoreSM, as the first way for iOS users to access videos designed for the Adobe Flash PlayerTM. Skyfire was recently recognized by Light Reading as the #4 StartUp to watch in 2011.

Skyfire is based in Mountain View, California, in the heart of Silicon Valley. For more information, visit www.skyfire.com, or follow Skyfire on Twitter at twitter.com/skyfire.