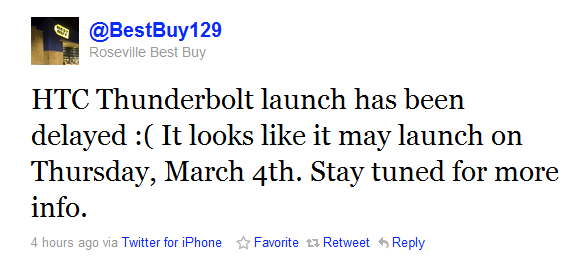 Since today is February 24th and the Thunderbolt is still missing, it's time to jump onto a new rumored date that the trolls can flock to the comments over.  How does March 3rd or 4th sound?  According to a Roseville Best Buy, we could see the device next Thursday or Friday, although it's tough to believe that after having gone through at least 10 other leaks like this from BBY stores.  And so you know, the tweet from above has been pulled already.
To help their story some though, we have another March 3rd or 4th sighting from a random forum member who supplied pics from a "VIP" event where they were told when they could expect it to be in stores.  We have no clue what to believe anymore, so we'll just let you guys have at it.  Vapor.    
I do want to add the fact that I spoke with a couple people who I would definitely qualify as "in the know" on Verizon happenings and they still had no clue when this thing would drop.  And no, I'm not talking about your average VZW rep either.  It's sounding to me like Big Red is going week-by-week with this one.
Via:  Android Police, AC Forums