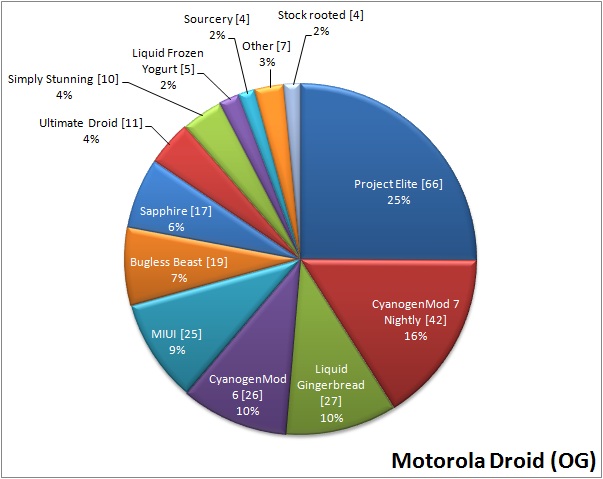 On Tuesday we asked our readers which ROM they were currently running on their rooted device and almost 800 people responded.   The number of ROMs mentioned blew minds yet also introduced many of you to something you may have never heard of; it was a great success.  The information though, while amazing to look at, quickly became a little overwhelming as the numbers piled up and we were left wondering what to do with it all.  And then one of our readers (@HeliosAI) approached us, asking to take on the task of sifting through each comment, sorting them all by ROM and device, and then displaying them in a set of beautiful graphs.
Ever wanted to know what the most popular ROM was for the original DROID, DROID X, DROID 2, Incredible or Galaxy S?  We have them for you below.  

*ROMs that fall under "Other":
OG Droid: Gimpsource [2] MetiCkMod [2] FroyoMod [1] Froyo Kangerade [1] C-ROM [1]
Droid X: Runic Blurry [1] Rumm Rx [1] Modified Blur [1]
Droid Incredible: Ultimate Droid [1] Uncommon Sense [1] Super Z Enhanced [1] Redemptive Rom [1] Redemptive REVOlution [1] Magnolia [1] Warm two point two [1] Warm Z two point two [1] Carbonite Sense [1] IncRom [1]
Now before you all say it, we understand that we could have also asked people to display if they were "unrooted and stock", but that wasn't the poll. This is just a fun way to look at the variety of ROMs that are out in the wild. Enjoy!
Everyone drop a huge "Thanks!" to Jon for putting these together.
And feel free to check out his blog Binary-Impact to show your support.