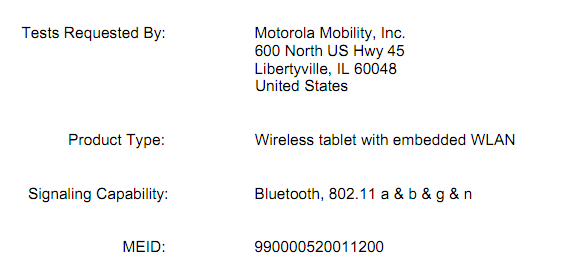 Oh my.  If this is what we think it is, then all I want to see is cheering and drunken chants of joy in the comments.  A "wireless tablet" with Motorola branding just snuck through the FCC today and as you can see above, is 100% focused on Bluetooth and WiFi which is leading us to believe that a WiFi-only Motorola XOOM is on the way.  The guys at Wireless Goodness first spotted the filing, but we dug even deeper and noticed that the confidentiality request expires in 180 days.
To put that into perspective, the Thunderbolt filing we talked about this morning had a similar 180 day request that expires on March 31, 2011.  And if we were to go off of that example, are we thinking this WiFi-only XOOM could be here within the next 2 months?  Possibly.  We don't know when the start date is for that request, so it's impossible to tell.  This could also just be one huge pile of nothing, although its FCC number differs from the XOOM that passed through earlier in the week that.
Would love to hear your thoughts.
Source:  FCC
Via:  Wireless Goodness
Cheers ckeegan!