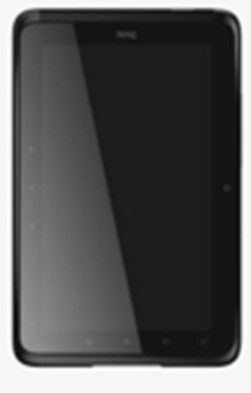 The first rumor for the HTC Flyer pegged it as a Gingerbread (Android 2.3) tablet that is upgradeable to Honeycomb and is currently scheduled to see the light of day in March.  Last night though, some specs snuck onto the interwebs, leaving us well, a little disappointed.  As more information comes out, the Flyer is looking more and more like the next Galaxy Tab rather than a competitor to the Motorola XOOM.  
Specs:
Android 2.3
7″ display (1024×600 resolution)
Snapdragon processor (MSM8255)
HDMI-out
4G LTE
1.3MP front camera
5MP back camera
Skype pre-installed
Thoughts on that?  We're thinking it could be headed to Verizon with that LTE radio and Skype app pre-installed, but we're not sure how it can even think about going toe-to-toe with Moto's tablet.  The source of this info also said that it'll be running a special version of Sense, which we're assuming is the new Sensation that HTC asked to trademark last week.  They are also expecting a 10″ tablet at some point as well.  Possibly the Scribe?
Is this your next tablet?
Via:  amobil.no