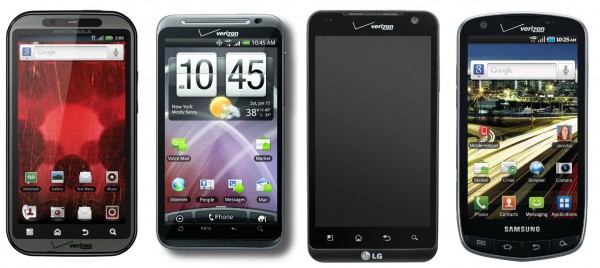 We thought a quick chart of Verizon's 4G LTE lineup would be a nice way to display their known specs and to help fuel the arguments as to which phone tops them all.  Some of the information isn't 100% confirmed so we've left it as "N/A" for now, but things like RAM are probably 512MB across the board.  Also, the Thunderbolt and Samsung device likely have anywhere from 2-8GB on-board, but we could not confirm either.
It's a little sad to see that not one of these 4G LTE devices will come with stock Android, but those kinds of phones are 1 in 1,000 these days.  Overall though, you have to be impressed by the lineup, although it would have been nice to see the LG device sporting a dual-core since they were all giddy about their Optimus 2X.  Each devices sports a 4.3″ screen of some sort though, plus they'll all have front-facing cameras to take us into the next fad in smartphones.  Enjoy!  
Our coverage of each device:
______________________
Some of our best videos.