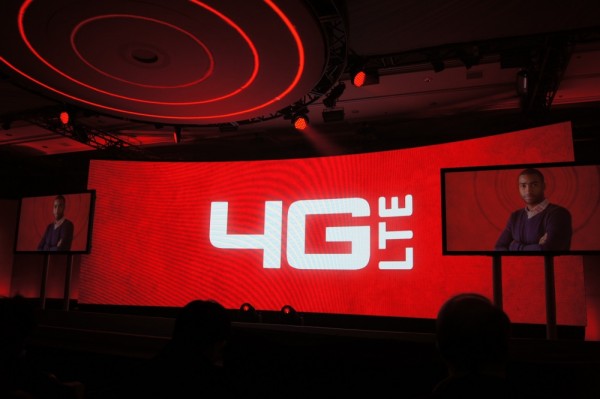 Yep, the moment most of you have been waiting for, the 4G LTE event for Verizon at CES.  We're expecting up to 5 devices to all be unveiled/announced in the next hour.  The HTC Thunderbolt, LG Revolution, DROID BIONIC, Motorola XOOM, and possibly something from Samsung could all make appearances, so keep it right here… 
12:50:PM – 10 minutes and counting…
1:10PM – And we're live, quickly through intro video on how awesome LTE16: is.  They just ran through a list of partners including HTC which means its Thunderbolt time.
1:16PM:  Announced partners through video including NVIDIA, Motorola, HTC, LG and Samsung.  We should be seeing those 5 devices I mentioned any minute now.
1:20PM:  Tony Mallone, VZW CTO claims that 2/3 of the U.S. will be covered by 4G LTE, the same as their 3G network in 2012.  140 more markets by the end of 2011, including my city, Portland!
1:27PM: 4 smartphones, 2 tablets, 2 mobile hotspots, 2 netbooks will be out within the first half of 2011.  All 4G LTE baby.
1:29PM:  LG CEO on stage, about to drop the LG Revolution which is a Optimus 2X made specifically for Verizon 4G LTE.  And he's done it.  No other news, but we're pretty sure it's their Tegra 2 device.
1:30PM: Skype CEO is up, video chatting is go.  News came out this afternoon that they are buying Qik, so that's the technology we're getting.  Funny thing is, they just showed it demoing on a Thunderbolt which hasn't been announced yet.  Will be on all 4G LTE smartphones.
1:33PM: Peter Chou from HTC is up.  Thunderbolt!  It'll be the first 4G LTE device just as their ads have been hinting at. 4.3″ Super LCD screen, mobile hotspot, Skype chat, all included.  Thanked Qualcomm, so yeah, single-core.
1:38PM: EA (Electronic Arts) VP Travis Boatman up now.  Rock Band mobile coming, will be a VCAST App.
1:41PM: Samsung takes the stage to announce 4G LTE smartphone and 4G LTE Galaxy Tab.  Phone will have a Super AMOLED Plus screen and apparently no name.  SCH-I520 is what he's showing, but they won't say a name.  Galaxy Tab will have 1.2GHz processor, doesn't look like anything else has changed.  New color scheme though, possibly white or silver backing.
1:45PM: They are wrapping up now with the DROID BIONIC and XOOM, but no real love as it has been everywhere over the last 24 hours.  Hotness.  Everything should be out in the first half of the year, but possibly not anything until March?
1:46PM:  Q&A time. First legit question is about battery life and Verizon assures us that performance will not be an issue.  Second question is about pricing…and they aren't commenting on it.  No pricing for devices or plans.  Asked about tethering, would not answer.
1:56PM:  And we're done.  Hopefully it's demo time.