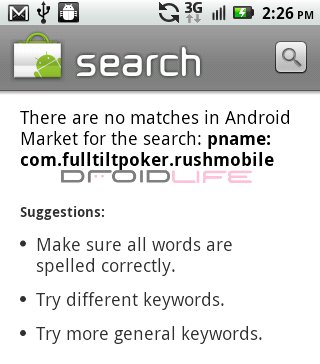 We reported on Full Tilt Poker's removal from the Android Market on Friday and have heard back from the poker service with reasoning that we sort of expected.  Apparently the app is in such an early beta stage that it needed to be completely pulled from the market "due to maintenance."  We received the email below which explains the deal:
Thank you for contacting Full Tilt Poker Support and for your interest in the Rush Poker * Mobile software.

Rush Poker * Mobile is currently unavailable due to maintenance.

While we are delighted at the success of the Rush Poker * Mobile software, due to the software being in beta testing stage, maintenance such as this is often essential.

Thank you for your understanding. If you have any questions, please let us know.

Regards,

James
Technical Representative
Full Tilt Poker Support
Anyone buying that?  Not sure I can even come up with 5 other apps that went live on the market and simply vanished 3 days later due to "maintenance."  Usually you feel like your product is pretty solid when you release it to the public, right?