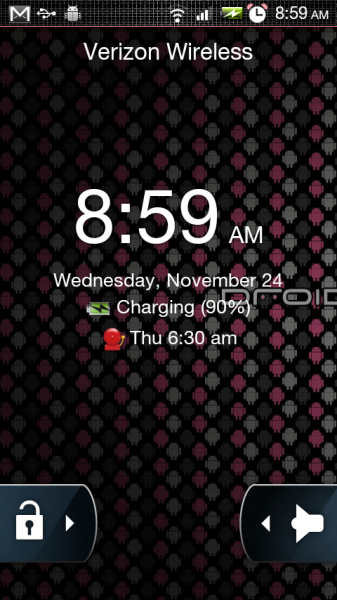 How about a Thanksgiving special from one of our favorite themers, JsinLegacy?   Say hello to "Sinful Pink", a theme with just enough touches of our favorite color (salmon?) to make you feel metro without blinding you into calling it pink.  And actually, there are additional colors, but we know how much you all love this color and wouldn't want to disappoint.  Enjoy!  
Download:  Sinful_Pink.zip
Instructions:
*Droid X ONLY.
1.  Download the file from above and drop it on your SD card.
2.  You have to be rooted.  (Instructions)
3.  You need to run Koush's Bootstrap Recovery.
4.  Your phone needs to be running RubiX Focused 1.8.9 or 1.9.3.
*Version 1.8.9 is for 2.2.  Version 1.9.3 is for those that upgraded to the leaked 2.2.1.
5.  Open the DX Bootstrap and "boostrap" the recovery.
6.  When that finishes, "reboot recovery."
7.  Once your phone boots to Clockwork Recovery, scroll down to "backup and restore."
8.  Choose "backup" to make a clean backup of your phone.
9.  When that finishes choose "install zip from SD card."
10.  Then "choose zip from SD card" and find the Sinful_Pink.zip, select it and hit "yes."
11.   Your phone will apply the theme.  When it finishes, reboot and enjoy!
Support thread, donate link and additional colors can be found here.