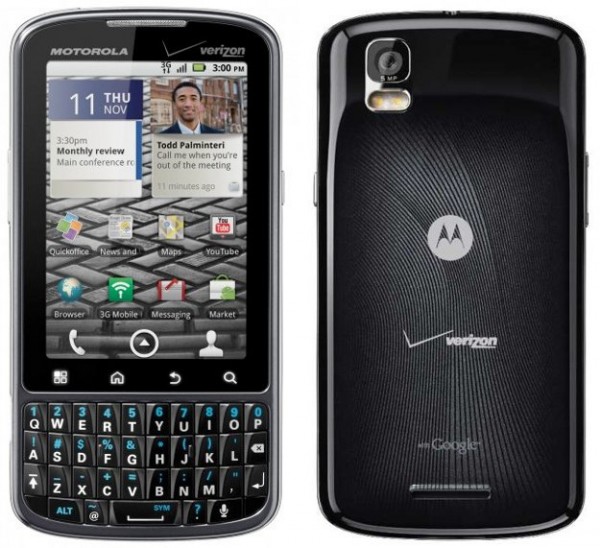 Rumors of a November 18th launch date have been floating around over the last few days and today, Verizon made it official.  The Droid Pro will  go on-sale in stores on November 18th for $179 after $100 mail-in-rebate on a new 2-year contract.  If you can't wait until the 18th, you can grab the device online starting November 9th which means you'll have your phone well before the in-store crowd.  Full retail should still run around $479 which is a steal in my mind.  
DROID PRO BY MOTOROLA NOW AVAILABLE ON THE NATION'S LARGEST AND MOST RELIABLE 3G NETWORK

DROID Does Business with Global Android Smartphone from Verizon Wireless

BASKING RIDGE, N.J., and LIBERTYVILLE, Ill. – Verizon Wireless, the company with the nation's largest and most reliable wireless 3G network, and Motorola, Inc. (NYSE: MOT), today announced that DROID PRO, the first Android™-based smartphone optimized for business use, will be available as a pre-sale order at select Verizon Wireless Communications Stores and online at www.verizonwireless.com starting Nov. 9 and for purchase in stores starting Nov. 18. The DROID PRO will be available for $179.99 after a $100 mail-in rebate with a new two-year customer agreement.

DROID PRO, a global-ready Android smartphone, allows customers to enjoy wireless voice service in more than 220 countries and data coverage in more than 200 countries, with more than 120 with 3G speeds. Powered by Android 2.2, DROID PRO is packed with features that meet both business and personal needs such as pre-loaded Quickoffice Mobile Suite, 3G Mobile HotSpot capabilities, and a QWERTY keyboard designed for speed and convenience.

Verizon Wireless customers who purchase DROID PRO will receive the mail-in rebate in the form of a debit card; upon receipt, customers may use the card as cash anywhere debit cards are accepted. DROID PRO customers will need to subscribe to a Verizon Wireless Nationwide Talk plan (beginning at $39.99 monthly access) and a 3G Smartphone Plan.

For more information on Verizon Wireless products and services, visit a Verizon Wireless Communications Store, call 1-800-2 JOIN IN or go to www.verizonwireless.com.

To learn more about DROID PRO, visit http://news.vzw.com/news/2010/10/pr2010-10-05.html.

About Verizon Wireless
Verizon Wireless operates the nation's most reliable and largest wireless voice and 3G data network, serving more than 93 million customers. Headquartered in Basking Ridge, N.J., with more than 79,000 employees nationwide, Verizon Wireless is a joint venture of Verizon Communications (NYSE, NASDAQ: VZ) and Vodafone (LSE, NASDAQ: VOD). For more information, visit www.verizonwireless.com. To preview and request broadcast-quality video footage and high-resolution stills of Verizon Wireless operations, log on to the Verizon Wireless Multimedia Library at www.verizonwireless.com/multimedia.

About Motorola
Motorola is known around the world for innovation in communications and is focused on advancing the way the world connects. From broadband communications infrastructure, enterprise mobility and public safety solutions to mobile and wireline digital communication devices that provide compelling experiences, Motorola is leading the next wave of innovations that enable people, enterprises and governments to be more connected and more mobile. Motorola (NYSE: MOT) had sales of US $22 billion in 2009. For more information, please visit www.motorola.com.