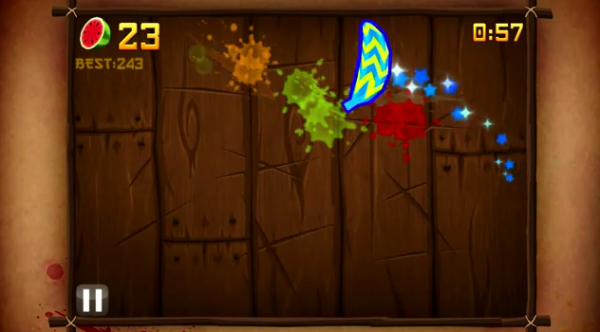 Fruit Ninja arcade mode!  You know what we're talking about, that damn black banana with the question mark on it!  According to HalfBrick (Fruit Ninja creator), the new arcade mode will become available to the i*ad and i*hone in November, which  you can see in their promo video below.  (Yes, they actually released a promo video for an update to a mobile game.)  
As far as Android goes, we can only speculate, but rumors suggest it will follow the enemy versions some time by the end of this month.  Fingers crossed?
Notes from Halfbrick:
After 6 months and over 2.5 million sales worldwide, Fruit Ninja is still receiving frequent, high quality free updates! Today Halfbrick is pleased to announce the biggest and most anticipated update to Fruit Ninja ever!

Announcing Arcade Mode, the most intense and exciting addition to Fruit Ninja yet! It will add so much more to the value and satisfaction of Fruit Ninja, while still keeping the simplicity and ease of play as top priority! Players have 60 seconds on the clock to achieve the highest score possible, but this isn't just any boring 60 seconds. We've added some serious power in the form of bonus colored bananas which will fly on screen. Slice one of those and get ready for action!

Double Points — This banana will award you double points for a short period of time. Criticals and combos count too, so rack up those fruit for some massive scores!

Frenzy — If you're not content with the amount of fruit on screen, the Frenzy banana will take care of that. A mammoth amount of fruit will begin flying in, but you have to stay focused to slice it all!

Freeze — The entire screen will slow down, allowing for maximum accuracy and combo potential!

Best of all, these bananas can be stacked! How about activating a Freeze, Frenzy and Double Points bonus all at once?

Arcade Mode represents a new chapter in the Fruit Ninja legacy, and Halfbrick couldn't be prouder!
Awesome promo video:
Via:  Droid Gamers