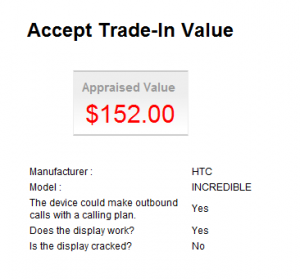 For those of you wanting to ditch your  current device for some cash in hopes of purchasing one of the new models of phones on the market, then Verizon's new trade-in service might be your ticket.  The new service allows you to input your current device plus its condition so that it can provide you with a dollar amount that VZW is willing to give you via giftcard.  Not a bad idea right?
Check out the trade-in value of our Droid family:
Droid 1:  $52
Droid 2:  $72
Droid X:  $124
Droid Eris:  $132
Incredible:  $152
Not a type-o.  The Droid Incredible and Droid Eris are both valued by Verizon as being worth more than the much newer and bigger Droid X.  I'll reserve comment and allow you to all jump on this one.  Just keep it clean!  We're all one big happy family remember?
Source:  Verizon
Via:  Droid Life Forums
Cheers NetworkBuilder!