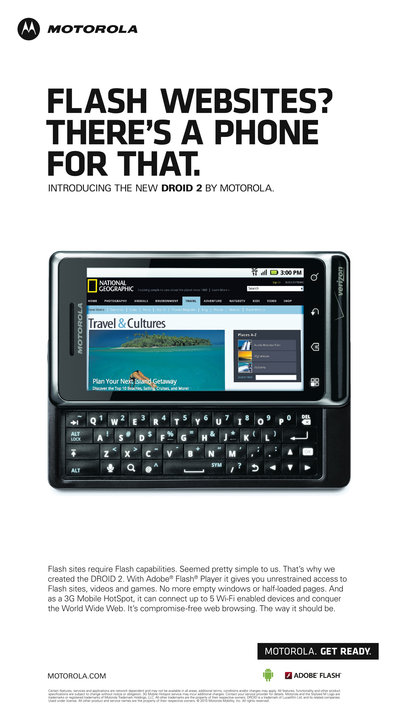 Motorola sure loves to buy up newspaper ad space and drop bombs in the face of Apple.  In the latest, Moto shows off the Droid 2 and the fact that it comes packed with Flash 10.1 allowing full "compromise-free" web browsing, which as well all know, is impossible on the i*hone.
Full ad script…
Flash sites require Flash capabilities.  Seemed pretty simple to us.  That's why we created the DROID 2.  With Adobe Flash Player it gives you unrestricted access to Flash sites, videos, and games.  No more empty windows or half-loaded pages.  And as a 3G Mobile HotSpot, it can connect up to 5 Wi-fi enabled devices and conquer the World Wide Web.  It's compromise-free web browsing.  The way it should be.
+1 Motorola.  +1 Flash.  +1 DROID.
Source:  Motorola Facebook
Cheers Erin!