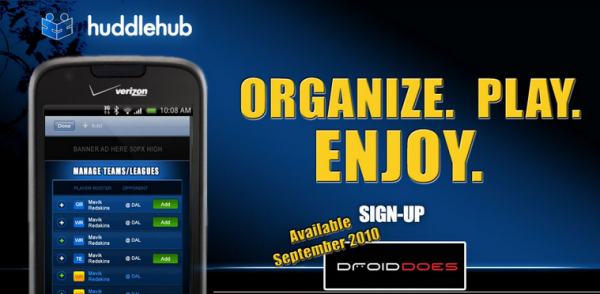 ESPN Fantasy Football addicts were probably a little jealous yesterday after seeing that Yahoo had released its official FF app and rightfully so.  After all, ESPN claims to be a "leader" yet can't even pump out a simple mobile app for one of its biggest online money makers.  Don't worry though, we think we have an option!
It's called HuddleHub and claims to be a fantasy football app that allows you to pull in your Yahoo and ESPN leagues with a full management experience!  Seriously, sounds too good to be true right?  Well apparently it'll launch within the next few days assuming they want it out before the season starts.  We should also note that the i*hone version launched on August 30th, so let's hope the Android version isn't far behind.
Update:  We had a chance to chat with the HuddleHub crew and we have release information!
Right now we are going to be releasing a Lite and Premium version of our app. The Lite application will be available this upcoming Monday, September 6th. The Lite application functionality will include on 9/6: 1) Add/Drop players, 2) Import Teams, 3) View Rosters, 4) Live Scores, and of course 5) registering/logging into HuddleHub. Come 9/9 (the first day of the football season) we will have Start/Bench available for the Lite version of the application.

The premium version of the application (launch date undetermined) will have all of the aforementioned features with Injury Player Notifications, Free Agent Notifications, and a Touchdown tracker.
So we've got a Lite version with a ton of features launching on Monday (9/6) and the Premium version with injury reports and additional goodies still in the works.  Who's ready for some football?
Sign up to be notified of the release of HuddleHub here.
Cheers Martin!