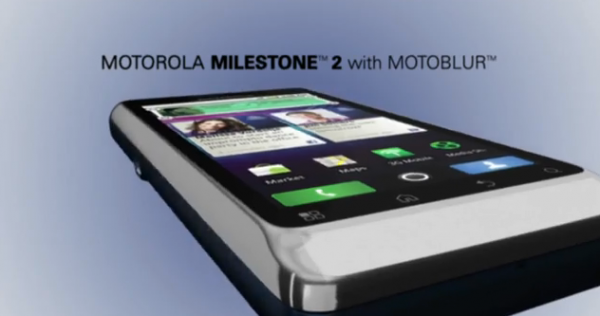 The Motorola Milestone 2 made an unexpected appearance today and one that wasn't planned by Motorola from what we can tell.  A full on intro video was found by Android Central then quickly removed only to re-appear again from some a sneaky Engadget reader.
Some interesting facts from the video:
Opening credit mentions "Motorola Milestone 2 with MotoBlur".  Yuck.
HD video.  (Yep, the same feature left off of the Droid 2.)
1 GHz processor.
Up to 40GB of storage.
3G mobile hotspot.
New Droid 2 keyboard.
Improved camera with dual LED flash.
Seriously, MotoBlur everywhere.
Check out the video after the jump before it's pulled!
Video Action:
This is definitely interesting and semi-frustrating stuff.  If it really takes HD video with the Droid 2 is stuck with "DVD quality" video, that is extremely unfortunate.  And the MotoBlur stuff is funny.  We told you the Droid X was running MotoBlur and after seeing this phone with it, you can tell that Moto simply change the launcher to look more Droid-esque, but is all about the Blur.
No release date, but we'll see what else we can dig up!
Via:  Engadget, Android Central
Cheers RacecarBMW and Orlando!