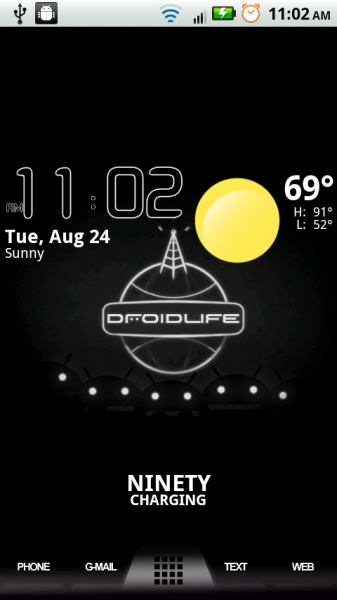 Been a while since we've done a "show off your screens" post, so let's do it again!  With an entire lineup of Droid devices, this could get really big and entertaining especially with the number of launchers, custom docks, hacks, etc. floating around.  Plus, we love giving all of you the opportunity to show other readers your style.
If you missed out the last time we did this, here are the basic guidelines:
Take screenshots of as many of your screens as you'd like using apps like drocap2 or ShootMe if you are rooted.  Follow these instructions to take them using the Android SDK if not rooted.
Upload your screenshots to an image hosting site like Imgur.  Paste the URLs to the images in the comments to allow everyone to see the images as click-able thumbnails.
With your shots, list out some, all or more of the following info:
Device (D1, D2, Incredible, DX, etc.)
Current launcher
Special wallpapers, widgets, icons
Custom ROM if you are running one.
My home screen:
Show us what you've got!