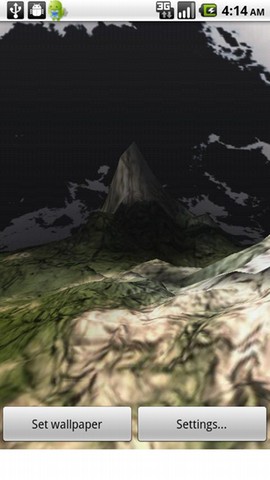 Virtual World Live Wallpaper (Free):  I was digging pretty deep and by now you all know I like to find free stuff to share.  This wallpaper delivers.  Virtual World creates an 3D landscape as your background that moves according to your compass or according to the tilt of your phone.  It travels as you switch screens and generally just looks awesome.  You can customize the level of detail from low to ultra high, and the various shadings, etc.  Maxed out settings make my Droid X kind of cower in fear, however this app was designed with a 2.2 device in mind.  Give it a try and let us know what you think!
No Lock (Free): Do you hate that you have to slide to unlock your phone constantly?  Wish you had nothing to hinder your progress when trying to download that new (insert Emo band here) album from Amazon?  Then guess what this app/widget does!  No Lock is a super stable, super easy, super effective way to get rid of your on screen lock/slider.  This is a no nonsense app that I can really appreciate.
Mangler (Free):  If you are like me and sit around at your computer day in and day out playing with cell phones, you also likely play video games.  It could be assumed you also talk to random people on Ventrillo servers.  Well my friends, I have found a way to break away from the screen and still talk about Icecrown Citadel in real time!  Mangler is an in-phone Ventrillo client that lets you access all the features of Vent.  Walk out into the sunshine knowing that you can now be yelled at by your raid leader even when you are out buying toilet paper.  The features are no filler and simple to use.  Chat and push button talk are both available.
State Farm Pocket Agent (Free):  This is a bit of a departure from the norm, but I feel this app is pretty neat.  Pocket Agent allows you to input your account information from State Farm Insurance and a real time look at your policy no matter where you are.  You can even pay your bill from your phone with the integrated payment feature.  There is also a way to view your insurance card should you get in an accident and cannot find your information in that nasty glove box of yours.  What I found to be the nicest feature however is the ability to record an auto claim, right from the app.  Pocket Agent even finds you repair facilities near you should you need it.
Cestos (Free):  Cestos is a simple game that is played over 3G with an opponent.  The object is to knock his balls into the hole or off the playing field in one of several maps.  The app is straight forward and is much more difficult the more you play and think about it.  There is a lobby for chatting and real time smack talk.  This game is a great way to kill some time, or get abused by teenagers.  Cross platform play with that other phone that we don't talk about here is coming soon.
Shinobi Barrage (Free):  Do you like shoot 'em up games?  Of course you do.  Shinobi Barrage is a great example of a classic shoot 'em up.  The difficulty curve is amazingly rough, however.  I went from Easy directly to Hard and was startled at the difference.  This game is more about your ability to react than your ability to shoot things.  A friendly interface and intuitive controls make it a pleasure to play.
To have your application featured in future Roundups, contact us here.