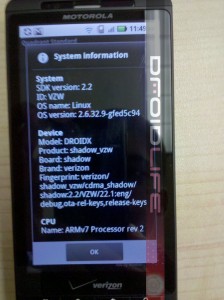 Droid X users, please take a deep breath before you read this.  And let me just say that "early September" is not that much different than "late August" when we're talking about Froyo updates.  Why am I prefacing this?  Because the Motorola forums manager just dropped some interesting news on the DX community…
Some Droid X users are experiencing an issue using Exchange 2003 email. Though the email is arriving on the Droid X, no notifications are appearing. A fix for this will be included in the upgrade to Android 2.2 scheduled for deployment by early September.
He was responding to the growing list of people having issues with Exchange support on their device and managed to slip in a surprise timeline for Froyo.  September…not August.  Maybe Android 2.2 and Blur aren't playing nice?  And maybe this is the same reason that we still don't have an official date for the Droid 2?
Thoughts anyone?
Source:  Motorola Forums
Via:  Engadget