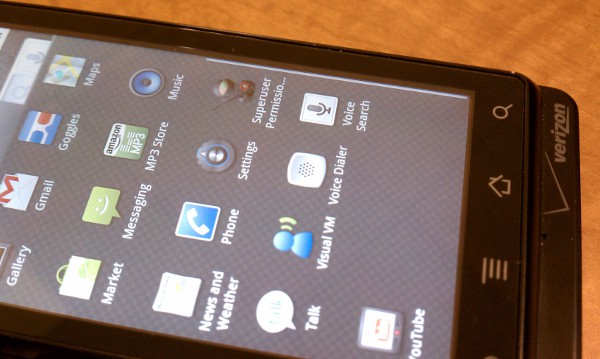 The DroidMod team has been quiet over the last few months working behind the scenes, but trust me when I say it appears as if they are gearing up to explode back to the forefront.  We just received a beta version of their DMUpdater app which easily roots Android 2.1 on a variety of devices including the Droid 1, Droid X and EVO.  Yes I just said "easily roots" 2.1 for the Droid 1.  No more SBF file, no more RSD Lite, and no more Motorola USB drivers.  I guess we'll need to update our rooting guide, again.  And I'll let that soak in for a second…
Just be warned that this is definitely a beta version of the app and is by no means official.  I've tested this twice on my Droid 1 and ran into zero problems.
Update: To clarify, I have not tested this on the Droid X or EVO.  I have no idea if it will in fact root either but have been told it "should."  I only said "root" there, not root and recovery image.  Until I get further confirmation, Droid 1 owners should probably be the only testers.
Your comments and shared experiences will be greatly appreciated.
*Warning* – This will void your warranty, possibly brick your device, and who knows what else.  We are not liable should any of those things happen.  Enjoy!
Download:  *LINK PULLED AT REQUEST OF DEVELOPER*
Instructions…
*The process outlined is for rooting the Droid 1.
1.  Download and install the new DMUpdater.  Open it.
2.  When prompted, tap the button to "Root my phone."
3.  When prompted to give access to DMUpdater, tap "Allow."
4.  DMUpdater will then prompt you to flash SPRecovery onto your phone.  Allow it to.
5.  Once that finishes, you are rooted 2.1 with a custom recovery image.
6.  Close DMUpdater and enjoy your new phone!
Your next step is to boot into recovery (Power+X) and create a full nandroid backup.  From there, prepare to start flashing custom ROMs, having fun with Froyo and so much more.
Huge props are in store for  the entire DroidMod team, Camel, trevorjay, sgx (tax), [mbm], and birdman for getting the root method to work.  Visit DroidMod.org for the future support and an official release of this.
You can also find them in IRC at #droidmod.