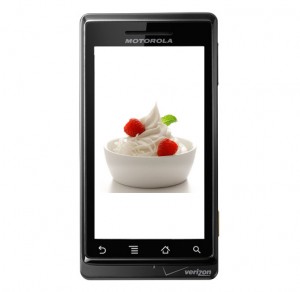 According to the latest leaked Verizon document, the Droid Android 2.2 update should start hitting devices on August 3rd.  There is a small chance that test updates could start tonight, but the mass rollout appears to be coming this Tuesday…
Android 2.2 (Froyo) Update for DROID by Motorola
Updated: 7/30/2010 5:58:38 PM(ET)

Starting 8/3, the Android 2.2 (Froyo) update for DROID by Motorola becomes available.

Starting 8/3/2010, Verizon Wireless introduces the Android 2.2 (Froyo) update for DROID by Motorola.

The new Android 2.2 (Froyo) software update includes new enhancements and tons of shortcuts.

It's like downloading a new phone!

Enhancements

Improved Web browsing with Adobe Flash Player 10.1 beta for Android
New security options including remote device wipe and device lock, password complexity and minimum password length.
Easily switch between the eight most recent applications.
Rotate the screen 270 degrees to work with apps in any direction.

Improvements

Enhanced audio quality
Easy shortcuts for access to the phone, application launcher and browser from any of the five home screens
Support Exchange calendars in the Calendar application.

The update will be available to customers starting 8/3/2010. For more information and step-by-step instructions on how to perform the upgrade, please visit http://www.verizonwireless.com/droidsupport.
As soon as we see an update.zip for this, we'll be sure to post it.  Stay close!  You never know what could leak out in the next couple of days.
Via:  Alldroid
Cheers Picolas!