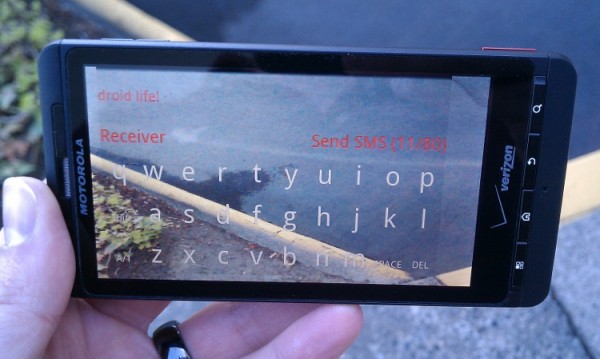 The texting app Road SMS from the Galaxy S lineup of phones has been ported to just about any Android phone.  I'm actually not even sure the app needed tweaking as it seems to work flawlessly on the Droid, Incredible and Droid X.
Not sure what Road SMS is?  It's essentially the coolest texting app around.  Using your camera, you can now walk down the street texting and see exactly where you are going rather than running into the curb, angry transient or weird guy on the segway.
*For all users.  Should work on Droid 1, Incredible and Droid X.
Download:  roadsms 1.01.apk (alt link)  (alt link2)  (alt link3)
Instructions…
1.  Download the roadsms.apk to your SD card.
2.  When it finishes, tap on it and select "install."
3.  Once it finishes installing, go to your app drawer and open the app.  Enjoy!
Source:  XDA Forums
Cheers Greg!