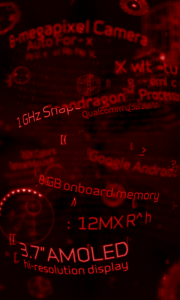 As far as we know, the Droid Incredible's OTA update has only gone out to a small test group before it begins a full on blast, and whether or not you want to believe that is completely up to you.  What I do know, is that the OTA update file that's floating around in the wild has all of the goodies that'll you'll see once the update hits your phone.  And one of those new features is the official DI boot animation which we have for you today.
Download: DROIDINC_Boot.zip
Instructions…
*Note 1* – These steps are performed on an unrooted Incredible through the Android SDK.

*Note 2* – This process also works if you want this on your Droid 1.

*Note 3* – The command for the audio file may not work the first time.  If it doesn't, run the command 1 to 2 more times and it should work.
1.  Download the file from above.
2.  Unzip the 2 files into your android-skd/tools folder.
3.  Make sure nothing is selected and hold SHIFT+right click inside your tools folder.
4.  Choose "open command window here."
5.  Type in the following commands:
adb push bootanimation.zip /data/local

adb push android_audio.mp3 /data/local

adb reboot
6.  Your phone will now reboot with the official Droid Incredible boot anim!
If you need help installing the Android SDK, check out this post we did a while back.  You will also need the HTC Incredible USB driver which will install with HTC Sync from here.
Cheers Antovolk!