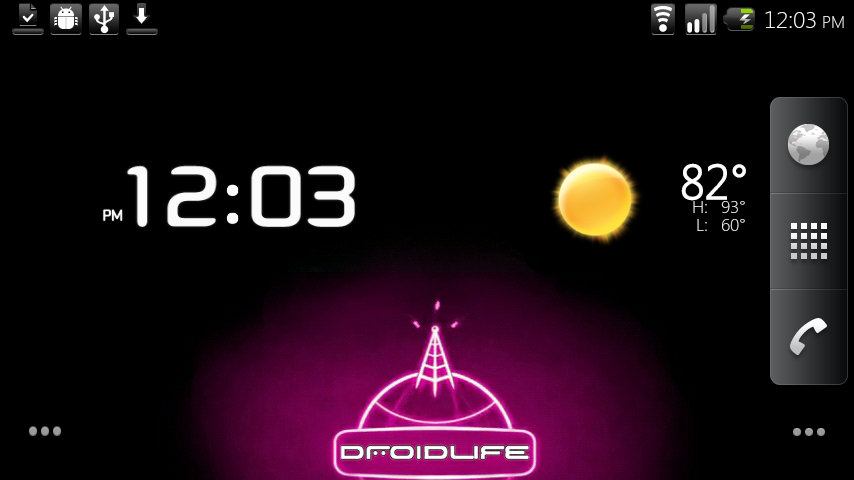 This week's custom theme comes from a developer who is a whopping 17 years old.  Yes you read that correctly.  When we heard about this kid and saw him putting out this kind of work, we had to do one thing, show him some love.  Going by the name InsaneNemesis, this kid has definitely caught out eye and we'll be watching for his future releases.
This ROM is built from source, has a 7 screen Froyo launcher, a red flair and so much more.  Enjoy everyone!
Theme:  Insanely Clean V1.1
Instructions…
*Note 1* – If you want to use SPRecovery, download, rename to update.zip and install.
1.  Open ROM Manager and choose Download ROM.
2.  Scroll down and choose "InsaneNemesis" and "v1.1 Insanely Clean New Revolution."
3.  If you want the same theme from our pictures, choose the "Insanely Clean Theme."
4.  Choose a kernel.
5.  Choose a boot animation.
6.  Once it finishes downloading you will be prompted to backup and wipe data/cache.
7.  Create a backup if you don't have a recent one.
8.  You can skip wiping data and cache if coming from another Froyo ROM.
9.  Phone will reboot and work some magic.
*Note 2* – So you are aware, my first boot after the install took a LONG time.  Be patient.
10.  Enjoy!
Full support thread including ROM details here.
Gallery:
Let us know if you run into any issues or have feedback in general.
Cheers 'Tato!