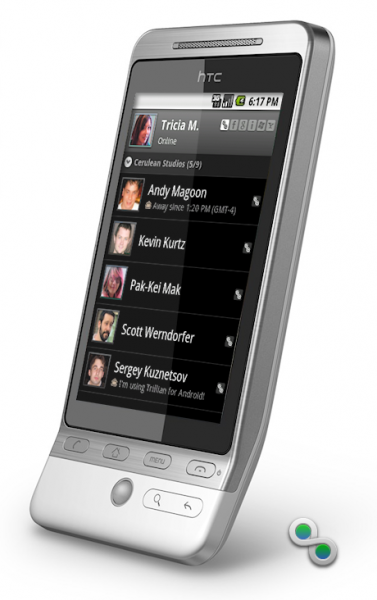 Trillian, the ultimate instant messaging program, is headed to Android in the next few weeks.  If you can't handle Meebo or some of the other IM options currently available, then this should be locked into your radar.  I can remember when Trillian was just getting its start back in the early 2000s and to see it heading to the good guy mobile OS is definitely exciting.
The features you can expect…
Connect to Facebook Chat, Windows Live, Yahoo!, AIM, ICQ, Google Talk, Jabber/XMPP and MySpaceIM
Synchronize your contacts, avatars, status, accounts and more with your Trillian-enabled desktop or mobile apps
Get notified easily with Android notification system integration
Contact list sorting, grouping, metacontacts support, privacy settings and various ways to organize
Set status, avatar and display name quickly in one simple screen
Tabbed chat windows with bubble view, photo transfer, buzz and emoticon support
Support for Android phones as far back as version 1.6 – works with your good old T-Mobile G1 or the newest HTC Evo 4G or Motorola Droid!
We took special care and respect to design and build the user interface to smoothly integrate with Android – this is not just a clone from the iPhone!
Anyone else feelin' some Trillian?  Facebook chat anyone?