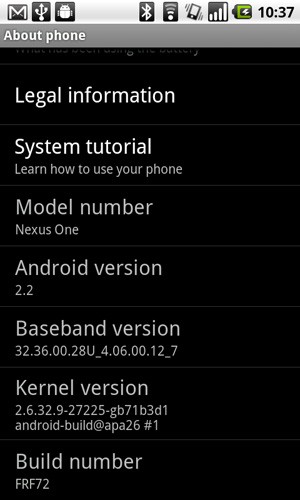 The FRF72 patch of Android 2.2 for the Nexus One is now available for those coming from the FRF50 build that was leaked out some time ago.  No one is really sure yet what this patch does, but there are rumors of browser and Flash improvement.
Instructions…
THIS IS ONLY FOR NEXUS ONE OWNERS.  DO NOT ATTEMPT TO INSTALL ON YOUR DROID.

*Note 1* – You have to come from the FRF50 build or this could do some damage.
1.  Download the FRF72 patch here.  (alt link)
2.  Drop it on the root of your SD card and rename it to update.zip.
3.  Boot into recovery and let the magic happen.
Let us know how it goes Nexus One owners!
AGAIN, THIS IS NOT FOR THE DROID.  PLEASE DO NOT EVEN ASK.
Source: XDA Forums
Cheers to everyone who sent this in!