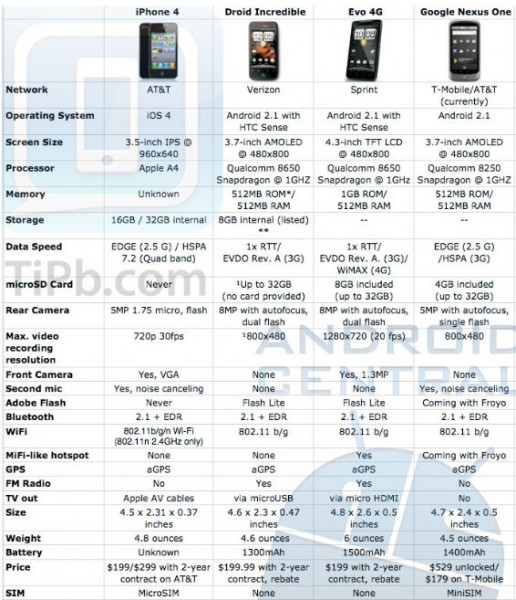 Ever wondered what it would feel like to build up momentum on something for an entire year that was supposed to be monumental only to see your direct competition release something superior the week prior?  Just ask Steve Jobs how he feels today.  BAM! (Damn it felt good typing that!) (OK, I'll quit and stick to blogging.)
Android Central and their sister site TiPB put together that fancy little chart above which compares the new iPhone 4 to the top Android devices on the market.  While it doesn't stand up at all to the EVO (in more ways than one), we still wonder if the iPhone 4 could even hold its own against the Droid Incredible or Nexus One?  At first glance, you could give it a slight edge because they both lack front facing cameras, but then you quickly realize it has no expandable storage, no Flash, only a 5MP camera, and a smaller screen.  Hmmm.  Yikes?
While I usually avoid fueling the hatred between the Apple fanboys and the Fandroids, it's pretty hard not to chuckle a little bit today when you roll with the good guys.
Who's hosting the Android party tonight?  I'll buy the first round.
Source: Android Central and TiPB